Guards Polo
Club News
Back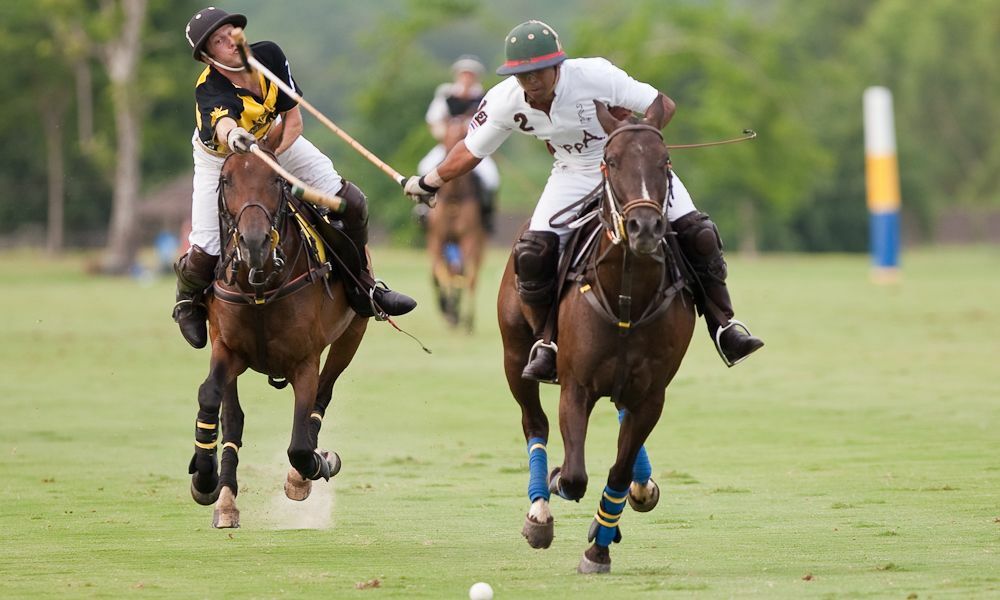 Who is the Duke of Cornwall?
12th August 2016
---
Guards Polo Club Archivist Graham Dennis finds out why Guards Polo Club created the Land Rover Duke of Cornwall Trophy
As we are in the midst of the Land Rover Duke of Cornwall Trophy, it seemed appropriate to ask our archivist Graham Dennis to find out more about the Duke of Cornwall and his relationship to Guards Polo Club. The Duke of Cornwall is, n fact, HRH The Prince of Wales, who has had a long and distinguished career in polo, especially here at Smith's Lawn. In recognition of this porting prince's achievements on the field of play, Guards Polo Club created ths trophy in 2002.
Early photographs show the young prince stick and balling at Guards Polo Club in 1962, having been introduced to the game at the age of 13. By 1965, the Prince was playing regularly in matches at Smith's Lawn and ended the season with a -1 handicap. In August of that year he had played in the Chairman's Cup alongside some very experienced players and scored twice. In this photograph (copyright UPI Herbert Dudford), he is pictured with his sister HRH Princess Anne just before the game.
Two years later HRH Prince Charles won the Combermere Cup, which is still played for today. This was an important early victory. Then at university, he played for the Cambridge team where his growing confidence shone through and he was awarded a half blue in 1968.
The inauguration of International Day in 1972 saw the start of a tournament in which this sporting Prince played 17 times with Young England or HRH Team. His prowess at back became established at this time and his handicap was raised to 2 in 1972 and to 3 in 1973. With the rise in handicap came the opportunity to play in the high-goal. Although victory eluded him with Mark Vestey's Foxcote team, he did win the Horse and Hound Cup with Lord Vestey's Stowell Park against Bucket Hill in 1974, scoring the winning goal.
In the late 1970s there began the long and successful association of the Prince with Guy Wildenstein's Diables Bleus team began. Wildenstein was a charismatic figure, an art dealer with a terrific enthusiasm for polo. He employed Julian Hipwood as his principal player, then handicapped at 9, the highest postwar handicap of an English player. Diables Bleus reached the final of the Gold Cup in 1978, but were beaten by Songai 6-4.
On the 29th July 1979 Prince Charles played in a match which was perhaps one of his most important sporting memories as he received the Rundle Cup from his uncle Lord Louis Mountbatten, who had been one of biggest influences on his game of polo. The Prince scored all four of the Royal Navy's goals in their 4-2 victory over the Army.
The Prince saw his handicap rise to 4 in 1981, making him one of only 23 players with a handicap of 4 or more playing at the time. This was a remarkable achievement given the demands of regular practice for high-goal with official duties.
Major high-goal success eluded him in 1982, reaching the final of The Queen's Cup, but losing to the Boehm Team. The pinnacle of his polo career came though in 1986 when winning The Queen's Cup with Les Diable Bleus.
HRH The Prince of Wales continued to play high-goal with Geoffrey Kent's Windsor Park and with his former Cambridge University team-mate Anthony Embiricos's successful Tramontana team. He retired from league polo in 1994, but continued playing exhibition and charity matches, often committing to more than a dozen fixtures a year.
At Guards Polo Club, HRH would often play in the Gulf Co-Operation Council match, held during Royal Ascot Week, and he regularly present trophies on behalf of HM The Queen too.
---