Guards Polo
Club News
Back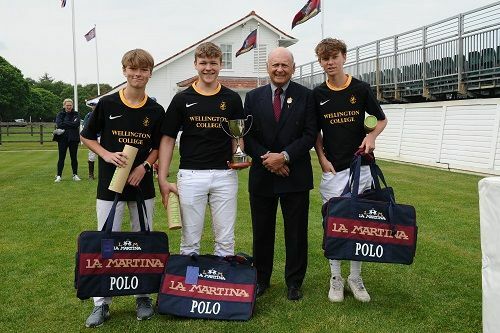 Wellington reclaim Copenhagen Cup
25th May 2019
---
Wellington College narrowly ran out the winners of the Copenhagen Cup schools competition in mid May. The defeated last year's winners Harrow (rec 2) in a tight game that was a perfect advert for schools polo. The Crowthorne-based school won this final 5-4, retaining the title they last won in 2017.
The Hine brothers (Ned and Louis) were dominant for Wellington and had ensured that their team were 4-2 up at half-time. Hugo Taylor, Harrow's impressive two-goal player who has played high-goal, worked hard to bring Harrow back into contention in the second half, successfully converting two penalties. He was well supported by Michael Fitzgibbon throughout the match but could not stop the Wellington attack.
There was a moment in the final moments of the fourth chukka that extra time might be needed. Sadly for Harrow, Taylor sent a 60-yard penalty wide with just 30 seconds remaining on the clock, ensuring Wellington reclaim the Copenhagen Cup. .
Rugby School (rec 1½) won the sub-final. defeating Millfield 4½-1. Meanwhile the Copenhagen Shield saw a win for Stowe School. They narrowly beat Eton, (rec ½), who consider Guards Polo Club as their home club, 4-3½. The only all-girl team in the tournament, Heathfield Diamonds, came out best in the Shield sub final. They dominated this match, defeating Marlborough 7-2.
The Copenhagen Cup, founded by Amr and Mo Sheikh, has grown from strength to strength and today delivers the perfect platform for schools polo to play competitive matches on good polo fields. Club Chairman Brian Stein watched the matches on finals day and not only presented the prizes but also the Polo Times Best Playing Pony prize to Hugo Taylor's Milla, a nine-year-old mare whom Hugo had played in the third chukka.
---