Guards Polo
Club News
Back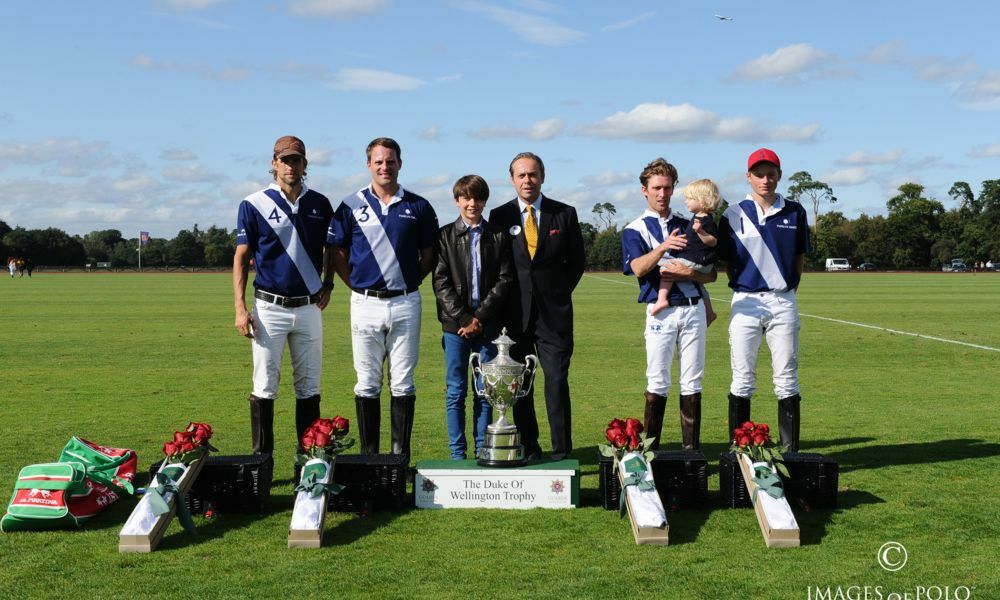 Twelve Oaks win Wellington honour
20th August 2018
---
Charlie Wooldridge received the Duke of Wellington Trophy from Lord Christopher Wellesley and his son Oliver after Twelve Oaks won this prestigious final 8-7. They defeated Christopher Bruckner's Asian Art/Cool Hooves in a tense game that only got going in the second half.
With a strong entry of 11 teams and played as a qualifier for the 12-goal HPA Victor Ludorum, this final had all the ingredients to be a memorable match. However both teams struggled to find space in the first half, with the umpires' whistles regularly in use. Twelve Oaks' Jacinto Crotto, later named the Most Valuable Player, produced some flashes of brilliance, but any flowing polo was regularly brought to a halt by a whistle. So at half-time the score was reading 2-2 and it was clearly still anyone's game.
So the many spectators at Guards Polo Club were surprised – and delighted – to see both teams transformed in the second half. Crotto started the action by converting a penalty, with team-mate Hugo Taylor delivering a fast run to goal. Jamie Morrison brought the Twelve Oaks score up to 5-2, while Taylor confirmed the Oaks' dominance by scoring again – all within the first half of the third chukka. This was what everyone had come to see. Asian Art/Cool Hooves did not let Twelve Oaks have all their own way and Tom Brodie produced a big hit to score and his team found another goal before the end of the chukka.
So the fourth chukka started with both teams on full revs and a 6-4 scoreline to Twelve Oaks. Wooldridge's team successfully converted a penalty at the start of this period and with Morrison also scoring, Twelve Oaks were back in contention with an 8-4 lead. Sebastian Dawnay was in fighting mode though and fired through two goals for Asian Art/Cool Hooves. So when this team successfully converted a penalty with only a minute remaining of the match, extra time could be on the cards, especially when Asian Art were awarded another penalty. Sadly Brodie sent this wide and with no time left on the clock, Twelve Oaks won the day.
Hugo Taylor received The Images of Polo Best Playing Pony prize for the 10=year-old grey gelding Polaco. All the players though received delicious goodies from Mosimann's and armfuls of Roses Only roses.
The sub final had been equally close – this match going into an extra, fifth chukka. Honours went to Andrew Dechet's Kildare. They narrowly beat Maximilian Kirchhoff's Snake Bite 8-7 – with Manu Plaza scoring the golden goal.
Twelve Oaks: Hugo Taylor (2); Charlie Wooldridge (2); Jamie Morrison (3); Jacinot Crotto (5). Asian Art/Cook Hooves: Tom Brodie (4); Sebastian Dawnay (3); Nacho Gonzalez (5); Chris Bruckner (0).
Kildare: Jamie Grayson (1); Andrew Dechet (2); Fabio Lavinia (3); Manuel Plaza (6). Snake Bite: Maximilian Kirchhoff (0); Pedro Harrison (4); Matt Perry (5); David Ashby (3).
Image copyright Images of Polo
---