Guards Polo
Club News
Back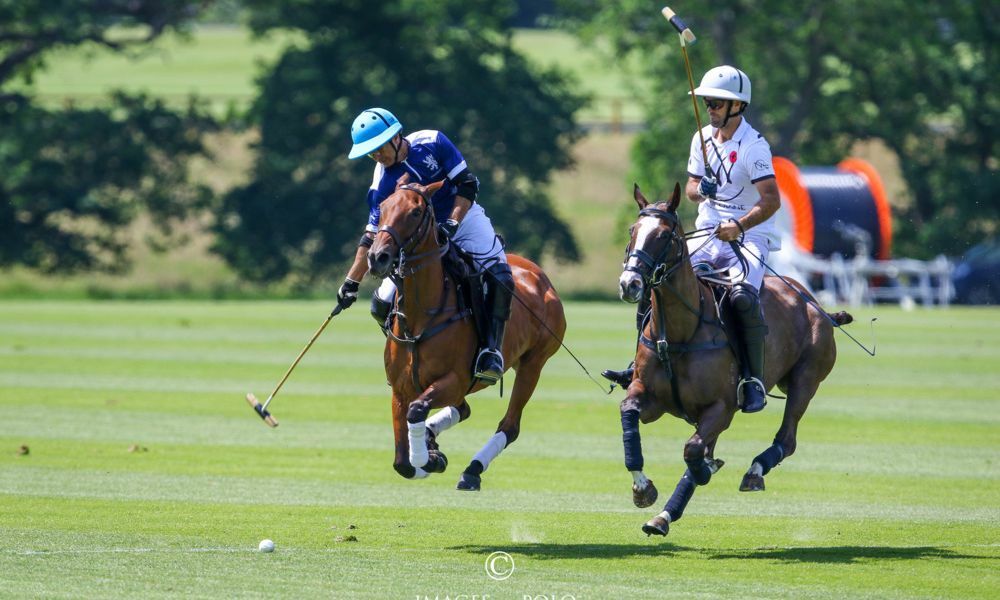 The Cartier Queen's Cup - the story so far...
17th June 2021
---
At the conclusion of two weeks of play and 30 matches, the 15 teams in the Cartier Queen's Cup have been whittled down to just eight as the knockout stages begin at Guards Polo Club. Highlighting the remaining teams is Monterosso, the only team to escape league play with an undefeated 4-0 record. Alongside Monterosso, five teams qualified with 3-1 records, while a shoot-out was required to determine the final two spots. UAE Polo Team ll's Alfredo Cappella secured seventh spot, while White Crane's Nico Pieres went head-to-head against Great Oaks LL's Barto Castagnola for the eighth and final spot, with Pieres emerging victorious.
The much-anticipated quarterfinals are set with three of the four games resulting in a rematch of competition from league play, providing familiarity with their upcoming opponents in what will surely be a memorable weekend of polo.
King Power v Scone Polo
The only quarterfinal featuring a new match-up, the third highest scoring team in King Power meets the top defensive team in Scone Polo. Their only loss coming in a heart-breaking double overtime match against Park Place, King Power has been led by their elite duo of Hilario Ulloa and Francisco Elizalde, who both sit inside the top five in field goals scored and assists. Effectively passing with Charles Cooney and Aiyawatt (Top) Srivaddhanaprabha working tirelessly off the ball, King Power has produced a potent attack which has been aided by penalty shooting at an astounding 94% to lead all teams.
Scone Polo can never be overlooked with 10-goaler Adolfo Cambiaso in the saddle, playing alongside son Poroto for the second consecutive year. Effectively directing play, Adolfo Cambiaso has headlined a Scone Polo defence that has conceded just 8.5 goals per game, fewest in the tournament. Scoring by committee, Scone Polo has received nearly identical scoring from a trio of Isidro Strada (13), Poroto Cambiaso (16) and Adolfo Cambiaso (16). Interchanging and rotating constantly to exploit opposing defences, Scone Polo can use the pass to break free and score when needed. With their only loss coming in a dramatic sixth chukka defeat to Monterosso Polo Team, Scone Polo look poised to challenge King Power for a spot in the semi-finals.
Monterosso v White Crane
A rematch of Wednesday's game, Monterosso and White Crane will meet for the second time in three days in the #1 vs #8 seed matchup. Undefeated, Monterosso began the tournament with two one-goal victories but have been riding their momentum through the tournament since. Ranking sixth in scoring, Ignacio Toccalino has provided a consistent source of offence from the penalty line, converting 20 of his 27 attempts. With a trio of Toccalino, David Stirling and Mackenzie Weisz all nearly averaging two field goals per game, their balanced attack has been effective from the start. Their defence has been a key factor in their success, including against White Crane where they held them scoreless through four chukkas.
The last team into the quarterfinals, White Crane enter as the only non-22 goal team, receiving two goals on handicap for each game. At the forefront of their attack has been Nico Pieres, scoring 73% of his team's goals. Despite a tournament low shooting percentage of just 28%, White Crane has stayed competitive with their defence, conceding the second fewest games in the tournament, with James Harper effectively manning the #4 position. Falling 10-6 in their previous meeting, White Crane will look to hand Monterosso Polo Team their first loss in Saturday's second quarterfinal.
Murus Sanctus/Le Magdeleine v UAE Polo Team
In one of the more anticipated matchups of league play, Murus Sanctus/La Magdeleine and UAE Polo Team met for the top place in League One with the former capturing the 15-10 victory. Ranked second in scoring, Murus Sanctus/La Magdeleine is not afraid to compete in high-scoring games but have the offensive firepower to carry them to victory. The formidable duo of Sapo Caset and Facundo Sola combine for 11.3 goals and 3.3 assists per game. After losing the opening game of the tournament to Talandracas, Murus Sanctus/La Magdeleine have been a team to watch since, as they look to repeat their result against UAE Polo Team.
A competitive first half between UAE Polo Team and Murus Sanctus/La Magdeleine left the score tied as UAE Polo Team will look to draw upon that to avenge their only loss. Tommy Beresford and Polito Pieres have traded penalty taking duties while effectively working together in open play for the strong UAE Polo Team attack. Along with Tomas Panelo, UAE Polo Team's open play performance has been exceptional, ranking second among all teams with 46% shooting from the field. More than half of their field goals are assisted on, highlighting an effective passing attack that will produce another thrilling match against Murus Sanctus/La Magdeleine.
Park Place v UAE Polo Team ll
After failing to capture the Cartier Queen's Cup title in three consecutive finals, Park Place is determined to etch their name in the prestigious trophy and have demonstrated the best offense of the tournament thus far. Averaging 13.5 goals per game, Park Place is led by 10-goaler Facundo Pieres, who trails only Juan Martin Zubia and Hilario Ulloa in scoring with 31 goals. However, the play of Juan Britos from the field has been exceptional, shooting over 60% and leading the team with 15 field goals. In their previous meeting against UAE Polo Team II, Park Place captured the 11-8 victory and will look to repeat that result on Sunday.
Few teams have the balanced four-man line-up that UAE Polo ll does, receiving significant contributions from each throughout the game. Leading his team into the quarter-finals after winning the shoot-out, Alfredo Cappella's 76% penalty shooting is key to his team's success while working well alongside Jaime Garcia Huidobro on the defensive end. Passing is crucial for UAE Polo Team II and Huidobro has led the way, collecting nine assists to trail only Barto Castagnola in the tournament. In trying to capture the victory over Park Place, UAE Polo Team II will need to continue receiving impressive performances from young Lucas Monteverde Jr., who leads the team with 13 field goals.
Words: Michael Foster International Polo Academy
Image: Monterosso v White Crane - copyright Images of Polo
---