Guards Polo
Club News
Back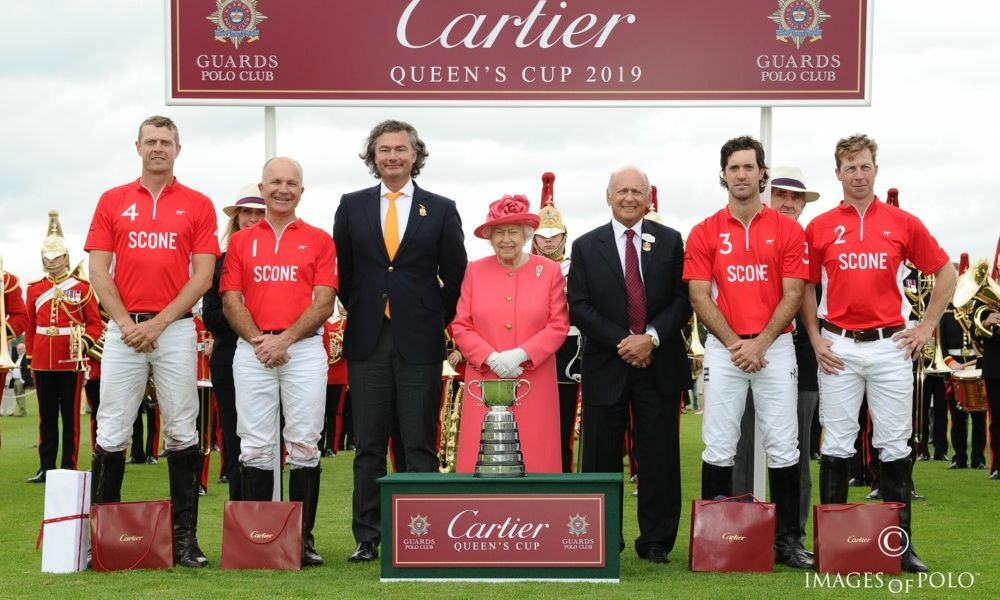 Scone win Cartier Queen's Cup on debut
17th June 2019
---
Scone Polo added their name to the Cartier Queen's Cup at the first time of asking! David Paradice's team delivered a strong performance on The Queen's Ground at Guards Polo Club in the second half of this final – playing their crowd-pleasing four-man polo – to win the match and the trophy 9-5. The popular Australian patron not only received the coveted cup from HM The Queen and Laurent Feniou, Managing Director of Cartier UK - generous sponsors of this tournament since 2012 - but a huge cheer from the crowd too.
Their opponents, Andrey Borodin's Park Place, were runners-up for the second successive year and, on paper, were favourites to lift the trophy. The game started in Park Place's favour – they were 2-0 up after the first chukka and although Scone Polo got themselves on even terms in the second (3-3) Park Place seemed to be in the driving seat.
Scone Polo's story through this year's competition has been incredible and this final was no exception. Many people had written off this new team after they lost their first two games. Things changed in the third league match of the tournament – they suddenly found a winning way of playing and have not looked back since. Some great teamwork had put this team in the final and it won them the Cup too. Park Place struggled to counteract Scone Polo's increasing confidence – failing to score at all in the fifth – and all of sudden, with just seven minutes left to play, this was Scone Polo's game.
Winning player, Englishman James Harper, who had a brilliant game at back for Scone Polo, was named the Cartier Most Valuable Player. He also received the Cartier Best Playing Pony Rug for Twitter – a Jim Gilmore-owned, seven-year-old chestnut mare.
HM The Queen also presented the Cartier Trophy to Hugues Carmignac, patron of Talandracas, one of 12 teams that had entered this year's Cartier Queen's Cup competition. They beat Jean-Francois Decaux's La Bamba de Areco 11-8 in an earlier match on this day. There was little air between these two teams at half time – 7-6 to Talandracas. Things only changed when La Bamba's David Stirling retired after the third chukka – he had been injured in the second and although he continued to play until half-time it was clear he was in some pain.
Pablo Pieres subbed for him but a change of personnel always upsets a team's dynamics and La Bamba failed to score in the next two chukkas. Talandracas, meanwhile, put four more goals on the board. La Bamba got back into the game in the sixth but it was too late and Talandracas won the sub final by three goals. The winning team's Alejandro Muzzio was later named The Most Valuable Player, receiving his prize from HM The Queen.
Scone Polo: David Paradice (0); James Beim (7); Nico Pieres (9); James Harper (6). Park Place: Andrey Borodin (0); Juan Britos (7); Hilario Ulloa (10); Benjamin Urquiza (5).
Talandracas: Hugues Carmignac (0); Francisco Elizalde (8); Julian De Lusarreta (7); Alejandro Muzzio (7). La Bamba de Areco: Jean-Francois Decaux (0); Kian Hall (3); David Stirling (9); Juan Martin Nero (10).
---