Guards Polo
Club News
Back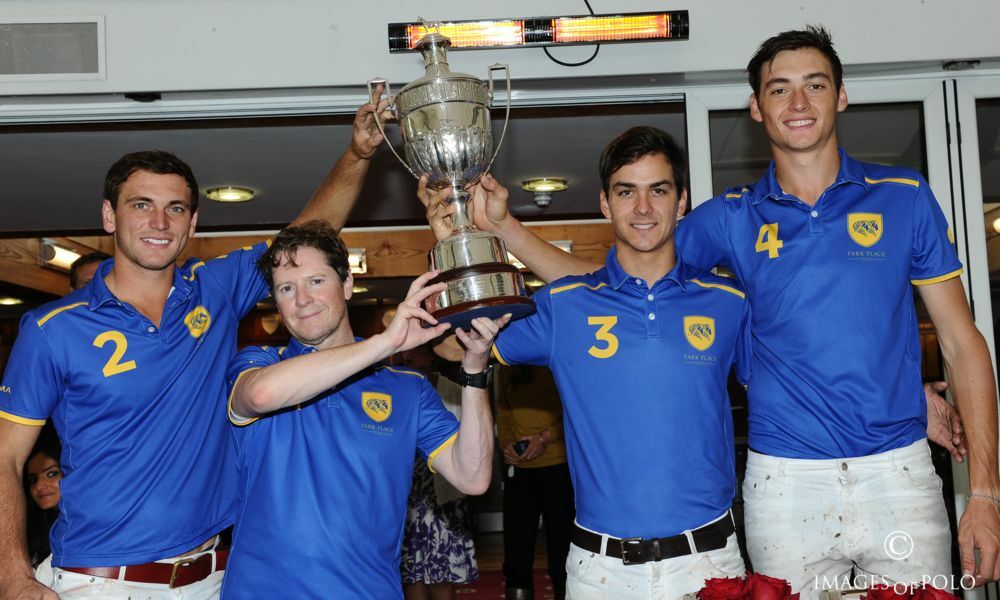 Park Place retain Duke of Cornwall Trophy in testing conditions
26th August 2018
---
Not even a deluge of rain could dampen Andrey Borodin's spirits after his Park Place team retained The Duke of Cornwall Trophy. In very different conditions to last year's final, Park Place defeated Andrew Dechet's Kildare 7-5 in a testing game on The Queen's Ground. Eight teams had taken part in this year's tournament, Guards Polo Club's final high-goal contest of the year, and created to honour one of our former players, HRH The Prince of Wales, who has Duke of Cornwall as one of his courtesy titles.
Dechet is no stranger to winning the Duke of Cornwall though, having been patron of the winning side in 2015. And it looked as if he might just do it again this time, thanks to goals off his own stick as well as those of Manuel Fernandez Llorente and Manuel Plaza. This sharp-shooting gave Kildare a 4-2 advantage at half-time. Park Place had read a different script though and came out fighting in the second half. Juan Britos, Byron Watson and Tommy Beresford all finding the flags for the blue shirts.
The young South African, Byron Watson, who had impressed throughout the earlier high-goal season, was later rewarded with the Polo Magazine Most Valuable Player Prize. Meanwhile, the Polo Times Best Playing Pony prize went to Kildare's Manu Plaza. He had played Casablanca in the second and fourth chukkas.
The sub final, which had been played earlier in the day, was an equally close affair. Charlie Wooldridge's Twelve Oaks Team, fresh from success in the previous week's Duke of Wellington Trophy, came out best, with most of the team finding the flags during the four chukkas. They defeated Mo Sheikh's Bridge House of Twyford (rec ½) 7-51/2 despite Jack Richardson's best efforts. He scored four of Bridge House of Twyford's five field goals.
---