Guards Polo
Club News
Back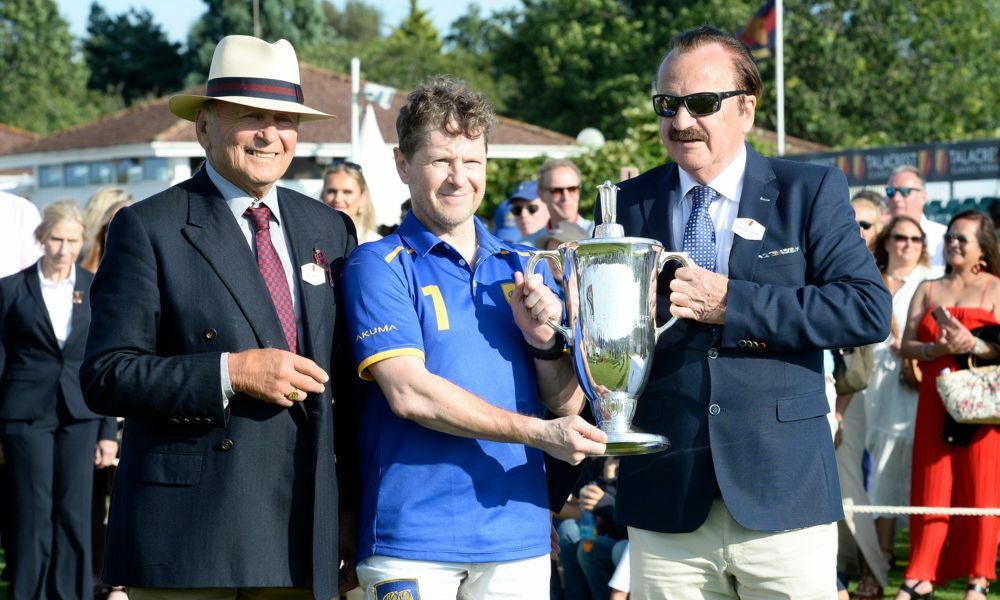 Park Place make history by winning Talacrest Prince of Wales's Championship Cup
23rd August 2021
---
Park Place made history at Guards Polo Club today. Andrey Borodin's squad is the first team to add their names to the impressive, 22-goal Talacrest Prince of Wales's Championship Cup. However Alessandro Bazzoni's Monterosso team made Park Place work hard for this victory, keeping themselves in contention until the final bell.
There was little between these two sides for much of the match, with both teams producing strong defensive play which kept the goal judges idle. Park Place had a narrow 3-1 lead at half-time but the players, and the packed grandstands knew that the advantage was on a knife-edge and could change at any time. There had only been a goal between these two sides when they met in the league stages of the Club's newesttournament, again in favour of Park Place (9-8), and this match was heading the same way.
In the fifth Facundo Pieres turned up the heat a little, making the most of some space to push Park Place ahead 4-3. When he had the chance to successfully convert a penalty many wondered if this was the moment that Park Place would now run away with the match. Ignacio Toccalino had other ideas. He successfully converted a penalty to put Monterosso very much back in contention. Facundo Sola had two chances for Monterosso in the sixth but sent them wide and as nobody else had a shot at goal in this final period the score remained stuck at 5-4, confirming Park Place's victory.
John Collins, the founder of Talacrest and sponsor of this new high-goal tournament, produced some amazing prizes for all players - and match officials - on finals day, including Cartier watches for the winners. Juan Britos was named Talacrest Most Valuable Player while Machitos Puccini, owned by Monterosso and played by Facundo Sola, was named the Talacrest Best Playing Pony. This seven-year-old bay mare is one of Sola's favourites.
Appropriately for a title sponsor who is the world's most experienced classic Ferrari dealer, having sold in excess of about 1,750 Ferrari, to the value of more than $1billion, the teams were not introduced on the field on horseback but from an impressive array of Ferrari. A former high-goal polo patron himself John Collins said when signing this new partnership: "I have been involved with polo at Guards Polo Club for more than 30 years and so am thrilled to be able to support the Club in this high-goal competition. I know from first-hand experience of playing high-goal at Guards that the opportunity for players to compete at the highest level on the best grounds is invaluable."
Five teams entered this first edition of the Talacrest Prince of Wales's Championship Cup, with each team playing the others over the previous three weeks. So both teams in the sub final for the Talacrest Trophy, Sheikha Maitha's UAE Polo Team and Andras Tombor's Bardon, had met before. In that first encounter the UAE team had comfortably won 13-8. So Bardon, playing in their first 22-goal tournament, came to this game having done their homework and dominated the first half. Matias Machado, who was later named the Talacrest Trophy Most Valuable Player was outstanding in the first half, putting Bardon comfortably ahead 7-2.
UAE Polo Team, no stranger to the big occasion, closed the gap in the second half, forcing this match into extra time. This was the first time in the entire tournament that overtime had to be played. Bardon were awarded a penalty early into the extra time which Fran Elizalde converted to win the match 10-9.
---