Guards Polo
Club News
Back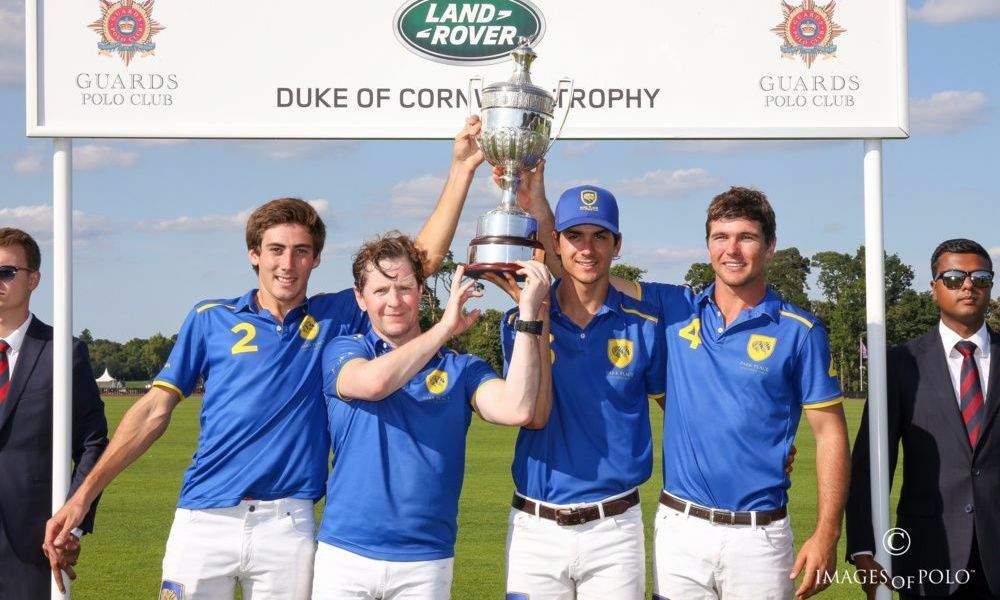 Park Place find horsepower to win Land Rover title
27th August 2017
---
Andrey Borodin added the Land Rover Duke of Cornwall Trophy to his burgeoning polo cup collection after his Park Place won Sunday's 16-goal final. In a tough match on The Queen's Ground, they just beat Khaled Badr-El-Din's Golden Falcons (rec 1/2) 8-71/2 after four, thrilling chukkas. This was a hard-fought match with both teams producing some great, and at times inspired, play in bright, hot sunshine.

Carlos Ulloa put Park Place on the scoreboard first and the blue shirted-team never relinquished this lead. James Beim and James Harper once again paired up well to try to put the Golden Falcons ahead, always well supported by their patron Badr-El-Din, but that crucial lead eluded them. Juan Britos, who was later named Land Rover Most Valuable Player, and Chris Mackenzie were an equally strong partnership. Every time it looked like the Falcons may take the lead, Britos especially would produce some beautiful play to keep his team ahead.

The final chukka was a brilliantly tense battle, much to the delight of Land Rover's many guests, with plenty of fast play. A penalty from Harper and a goal from Beim closed the gap for the Falcons once again, but time was against them and this year's honours went to Park Place. Andrew Robb, a Director of Jaguar Land Rover presented the trophy to Borodin and the Land Rover Best Playing Pony prize to Britos for his pony Aguada Distinta, whom he had played in the first and fourth chukkas.

The sub final was an equally tough and testing match. Mo Sheikh, who was on flying form for his Bridge House of Twyford team, won this game 7-5. Bridge House's opponents were Kola Karim's Shoreline who battled to the end. |However, the damage had been inflicted in the second chukka by Bridge House's Jack Richardson and his patron, resulting in a 5-1 scoreline at half-time.

Earlier in the day Land Rover hosted a learn to play for its guests with the Guards Polo Academy and Land Rover Polo Ambassador Max Charlton at Smith's Lawn. This included the Countryfile and The One Show presenter Matt Baker and England rugby international Jason Robinson.
---