Guards Polo
Club News
Back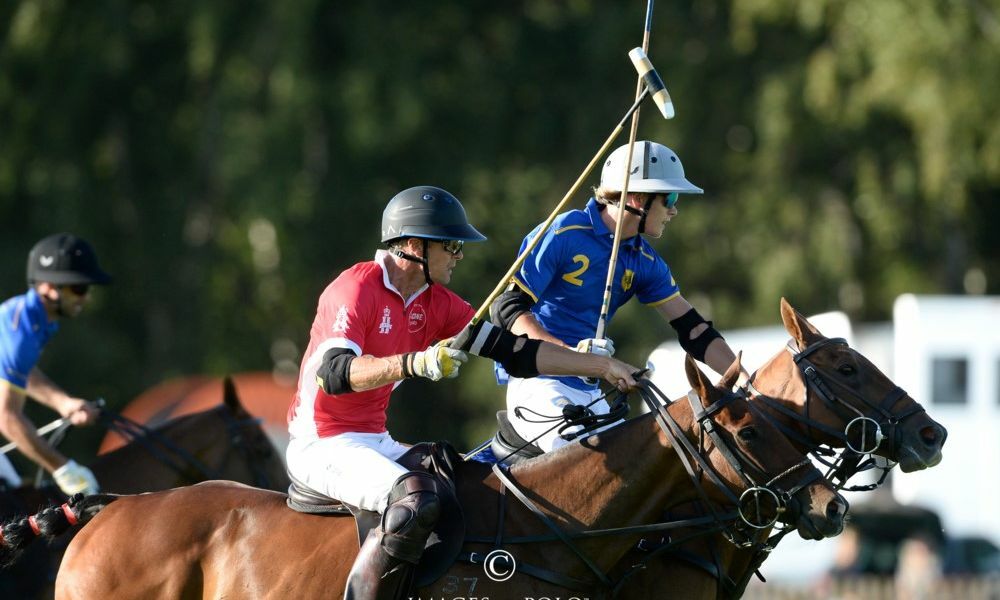 Park Place and Les Lions/Great Oaks prepare for Cartier final
21st August 2020
---
Dinah Washington is famous for singing "What a difference a day makes, 24 little hours". The same could have been said about Guards Polo Club. Yesterday's semi-finals were postponed due to a deluge of rain that persisted almost all day. More than 15mm of rain fell on Wednesday, making polo impossible. Fast forward 24 hours and the sun was shining brightly and the Club's top polo fields looked immaculate despite their extended bath.
First up on the Cartier Queen's Cup semi-finals bill was Les Lions/Great Oaks versus Thai Polo (rec 2 goals). The latter team were 5-2 up at the end of the first chukka, playing plenty of their lovely-to-watch four-man polo that had so impressed throughout this tournament and had secured Thai Polo the status of finishing top of League One. However Les Lions/Great Oaks kept themselves in contention and few were surprised that they had levelled the scores by half-time (5-5). They got themselves two goals ahead in the fourth (7-5) but could not maintain the momentum, despite some strong goal-scoring from young Jeta Castagnola. With only a couple of minutes left in this semi-final and the scores ready 8-8, jeta pushed Les Lions ahead 9-8 but it was not enough of a margin to be comfortable. So when Tommy Beresford fired through a penalty extra time was imminent. This was equally fast and furious, only for Barto Castagnola to fire through a golden goal in the seventh chukka to secure this team's dream ticket to Sunday's Cartier Queen's Cup Final, winning this match 10-9.
Brian Stein, Chairman of Guards Polo Club, presented Dillon Bacon with the Hubert Perrodo Trophy on the strength of this win and team-mate Santiago Laborde, who has been consistent in keeping Les Lions' back door closed throughout the tournament, received the Cartier Best Playing Pony prize for Clarita, whom he had played in the second and seventh chukkas. Meanwhile, Thai Polo's Jack Richardson was named the Cartier Most Valuable Player.
The second semi-final for the Kerry Packer Trophy was a very different affair. Andrey Borodin's Park Place were aiming for their third consecutive Cartier Queen's Cup Final – they are yet to win the trophy – and their determination was evident from the first whistle. They were 5-0 up after two chukkas and David Paradice's Scone Polo, last year's winners over Park Place in the final, looked outclassed. Scone Polo had impressed in many of their games but today they struggled to find their form to peg back an in-form Park Place.
Ironically much of Park Place's success was due to the skills shown today by young Will Harper. Finding himself on opposing sides to his dad, James Harper, Will was inspired, producing blistering runs up the Duke's Ground and always finding himself in the right place to pick up a pass from the Pieres' boys when it mattered. His tally of four goals on the score sheet, just one less than Facundo Pieres himself, says it all and not surprisingly Will was named the Cartier Most Valuable Player and received an additional prize from Brian Stein. Andrey Borodin received the Kerry Packer Trophy for his team's 14-8 victory, while his number four, Facundo Pieres, received the Cartier Best Playing Pony prize for Mediterranea.
So Sunday at 3pm has all the hallmarks to be a thrilling contest featuring Park Place v Les Lions /Great Oaks. Appropriately after three weeks of fast-paced, 22-goal polo, the final will be far too close to call. The only disappointment is that such a great game has to be played behind closed doors due to the coronavirus pandemic. Crowd support inevitably spurs teams on and a silent Queen's Ground on one of the Club's biggest days of the season will be a very strange sight indeed.
The final will be streamed live at www.guardspoloclub.com/guards-tv
---