Guards Polo
Club News
Back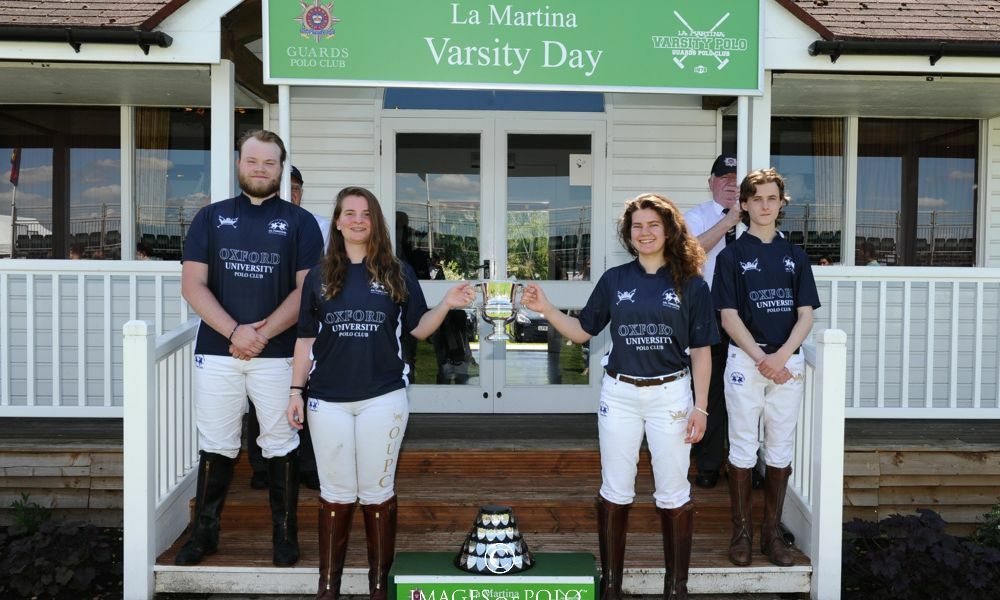 Oxford hold tight to the La Martina Varsity Trophy
7th June 2021
---
Oxford retained the coveted La Martina Varsity Trophy on Saturday. They defeated their historic rivals Cambridge in a competitive match under a blazing sun on the superb polo fields of Guards Polo Club. This fixture had not been able to be played in 2020 due to the pandemic and so it was wonderful to welcome the students, their families and friends back to the Club this season.
Oxford has dominated this university test – which dates back to 1879 – in recent years; Cambridge last took the trophy back to East Anglia in 2014. Although this year was a much closer affair than some of the more recent contests, Oxford winning the game 8-3. The Varsity is always played open, which was not to Cambridge's advantage due to the handicap difference, but Cambridge kept Oxford in their sights throughout the four chukkas
Tamara Gibbons, an experienced Varsity player for Oxford, was named the La Martina Most Valuable Player, a prize she also received in this match in 2019. Cambridge's Junaid Safdar headed home with the Best Playing Pony prize. This had been awarded to Chasco Laguna, a pony bred by the high-goal player Alfredo Bigatti.
The Varsity Day, which has been sponsored by La Martina for the past five years, began with an equally competitive schools match featuring Harrow and Eton (rec ½ goal). This was a fast-paced match which perfectly highlighted the incredible depth of talent in schools' polo at this time.
Harrow narrowly won this match with school's number three Hector Rogberg delivering a particularly strong performance. Eton did not head home empty handed though as Oliver Drewitt was named the Most Valuable Player while his team-mate Beau Buchan received the La Martina Best Playing Pony prize for Sapo.
Oxford: Jamie Baillie (-1); Cecily Day (0); Tamara Gibbons (0); Thomas Gordon-Colebrook (1). Cambridge: Éclair Chen (-1); Catherine Richards (-1); Junaid Safdar (0); Tate Lavitt (0).
Harrow: Ulysses Hu (-1); Freddie Strange (-2); Marc Lindgren (-2); Hector Rogberg (0). Eton: Alick Sweeting (-2); Oliver Drewitt (-1); Beau Buchan (-1); Fraser McDade (-2)/ Sacha Davie Thornill (-2)
---