Guards Polo
Club News
Back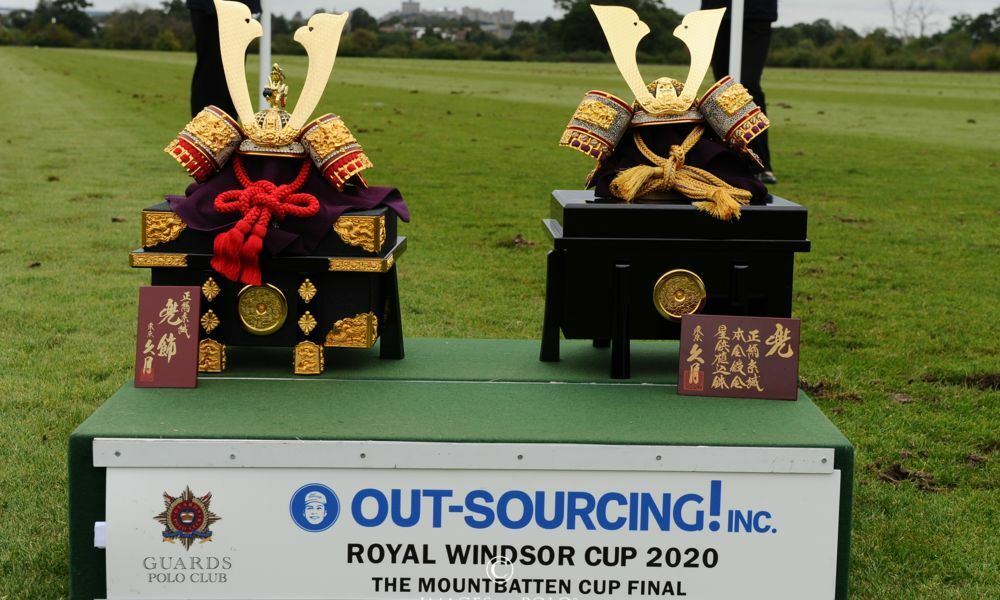 Out-sourcing Inc. Royal Windsor Cup Semi-final Preview
17th June 2022
---
Our oldest trophy, The Out-Sourcing Inc. Royal Windsor Cup, began with an impressive 26 teams, but just four remain entering Friday's highly anticipated semi-finals. Just two undefeated teams are left with Bardon and Ainsley Saddlery looking to complete their run into the final but they will be challenged by two experienced organisations Emlor Black and Four Quarters Orange.
Bardon v Emlor Black
In the opening semi-final, Bardon seeks to return to the Out-Sourcing Inc. Royal Windsor Cup Final for the second consecutive year after falling 8.5-8 against Emlor Red in 2021. Hoping for a different result in 2022 against Emlor Black, Andras Tombor's Bardon enters with a 4-0 record and are led by Isidro Strada's team-high 13 goals and six assists. After a hard-fought victory in their opening match, Bardon have dominated in their remaining matches, winning by an average margin of more than four goals. A fast-paced line-up that features Kian Hall and Teodoro Lacau, Bardon excels in open play where they have scored 27 of their 33 goals in the tournament. Holding opponents to just 4.8 goals per game, Bardon has demonstrated exceptional polo on both sides of the ball as they are one step away from a second straight finals appearance.
Challenging for a spot in the final will be Emlor Black, who recovered from an opening game loss to Mad Dogs to go undefeated the rest of the way, including a thrilling 8.5-8 victory over Jolly Roger King of Polo CH in the last quarter-final on Wednesday. With Nacho Gonzalez effectively patrolling the back position, the experienced Alejandro Muzzio has driven the team's attacking play with both individual runs to goal and accurate passes. A balanced attack, Muzzio leads Emlor Black with 12 goals, but his tournament-leading 10 assists has been crucial to their success, involving his three teammates and receiving significant contributions. Pierandrea Muller trails only Muzzio on the team with 2.5 goals per game with accurate 59% shooting, providing another scoring option that opposing defences are tasked with stopping. Entering Friday's semi-final against Bardon, Emlor Black plays a similar style of open, passing polo to set up an intriguing first semi-final.
Ainsley Saddlery vs Four Quarters Orange
The second undefeated team left in the tournament; Ainsley Saddlery has stormed their way through the tournament with their closest match coming in their opening 10-8 victory over Ferne Park/Cowdray Vikings. Since then, their closest game has been a four-goal triumph, including a dominant 11-6 victory over SONA Polo in their quarter-final. The key to Ainsley Saddlery's success has been their attacking play, producing a tournament-best 37 goals. Executing an effective two-man game, Manuel Plaza and Guillermo Terrera have worked well together, combining for 27 goals and 14 assists. Adding Andrew Dechet and Rufino Laulhe to the roster, Ainsley Saddlery have collected more assists than any other team, indicative of their willingness to move the ball downfield with the pass. While scoring the most goals, Ainsley Saddlery have conceded 5.5 goals per game, leaving Four Quarters Orange with a difficult task in the second semi-final.
Capturing the prestigious title in 2020, Four Quarters Orange are one step away from returning to the final after an impressive 13-6 victory against Green Gates in the quarter-finals. The second highest goal total in the tournament, Four Quarters Orange can score quickly with Ignacio Negri and Gonzalo Ferrari ranking third and sixth in tournament scoring respectively. The key to Four Quarters Orange's success in the quarter-final and entire tournament has been their ability to convert any chances around goal, ranking first out of all 26 teams in shooting accuracy at 64%. Playing a quick, high-pressure style of play, Four Quarters Orange have found themselves in foul trouble at times, committing more fouls than any other team, but when provided with penalty opportunities of their own, have shot 82%. With Simon Arber and Zac Beim working hard at the front of the game, Four Quarters Orange look to contain Ainsley Saddlery's strong attack and convert enough chances to return to The Queen's Ground on Sunday.
---