Guards Polo
Club News
Back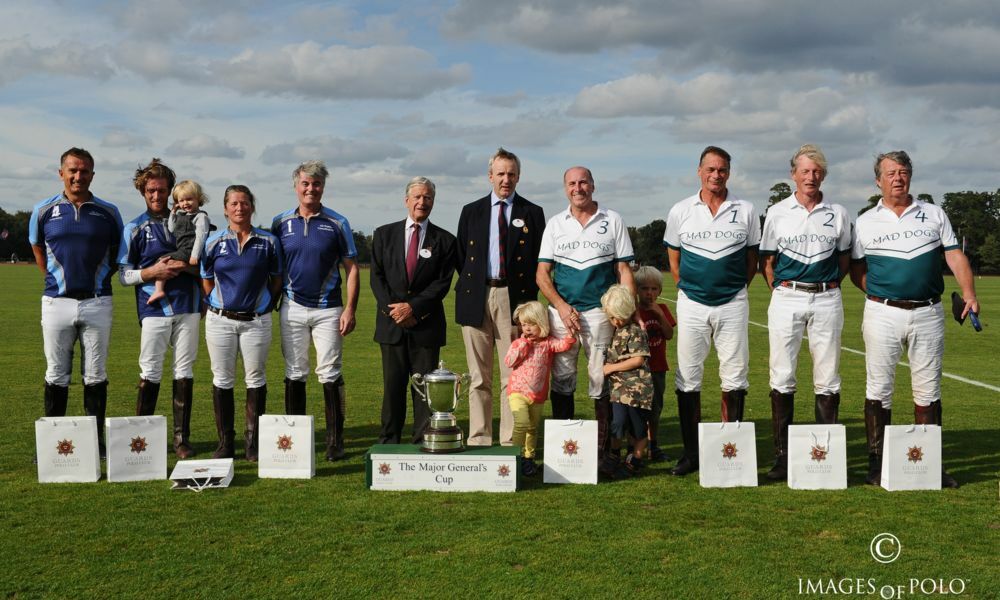 Los Alquimistas win Major General's honour
10th September 2018
---
Los Alquimistas put on a convincing performance to win the Major General's Cup Final at Guards Polo Club on the penultimate week of the season. They defeated the holders of the trophy, Alan Fall's Mad Old Dogs (rec ½ goal) 6-21/2 in the final. Anthony and Louisa Donovan's team dominated this match, thanks to some impressive play from Spencer McCarthy and Charlie Wooldridge. Spencer was later named Most Valuable Player, while Charlie's 15-year-old mare Corollo received the Images of Polo Best Playing Pony prize.
This match is a wonderful reminder of the Club's military roots and the Major General himself – Ben Bathurst CBE – presented all the prizes. However this day was also a great advert for the current strength of military polo. Twenty-four former or serving members of the Armed Forces were in action on this date.
The day started with a inter regimental mini tournament between the Welsh Guards, Life Guards, Foot Guards and Blues and Royals. The Welsh Guards came out best in this 2-chukka tournament, beating the Foot Guards 3-11/2 in the final.
For the first time the RAF Polo Team competed on this day. They were invited to play against the Past Grenadiers in a match to celebrate the RAF's centenary - 1918 - 2018. Appropriately the visitors came out best on The Princes Ground, winning the match 61/2-5. Officer Cadet Jonathan Parry received the trophy from the Major General as well as the Most Valuable Player prize. Great timing as this match was being played on his birthday. The RAF also made a separate presentation to Guards Polo Club CEO Neil Hobday in recognition of Guards Polo Club's support of RAF polo.
With members of the Armed Forces having free entry on this day – plus La Martina offering a 10% discount to everyone who repeated the phrase "Once a Grenadier Always a Grenadier" there was a vibrant feel to Smith's Lawn, bathed in warm September sunshine.
---