Guards Polo
Club News
Back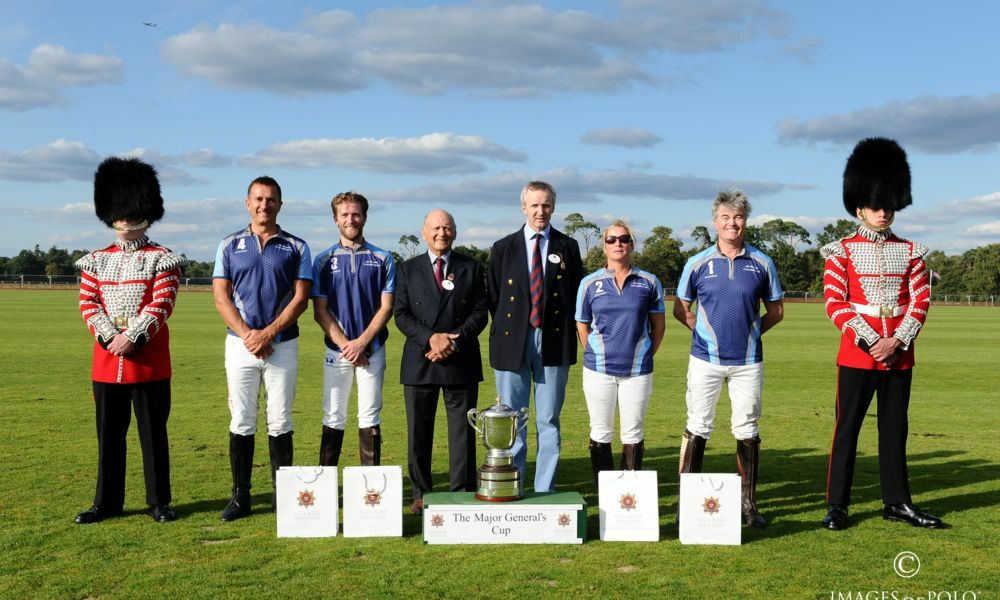 Los Alquimistas receive Major General's honours for second time
9th September 2019
---
Los Alquimistas's victory in the Major General's Cup was appropriately heralded by the trumpeters of the Household Cavalry. This was the second successive win for Louisa and Antony Donovan's team and they won in style. They beat the Hackett Army Polo team 4-2 on The Queen's Ground. Charlie Wooldridge and Spencer McCarthy made up this quartet and produced a strong partnership throughout the four chukkas. Charlie was rewarded with the Images of Polo's Best Playing Pony for Sisi, an Argentine 11-year-old mare. She came to the presentation table with her groom Sophie Bates to receive her prizes from the Major General Ben Bathhurst and the Chairman of Guards Polo Club, Brian Stein.
The Army team, who it should be noted were playing on unfamiliar ponies, put up a strong opposition but failed to convert some good play into goals. However Lt Giles Bromley-Martin of the Irish Guards was named the Most Valuable Player, receiving his prize from the Major General himself, Ben Bathhurst.
All the presentations of the day took place together, each winning team receiving an appropriate trumpet herald. This included Edward Horswell's Sladmore Gallery. They defeated Jamie Hayward's Stable Cottage (rec 11/2 goals) 8-311/2 in the sub final, which had been played on The Duke's Ground at midday. Adebayoe Karim was playing for Stable Cottage, standing in for his uncle Tunde despite only having flown in from New York early in the morning.
The Wooden Spoon – for the teams battling for fifth and sixth place – went to BG Polo. They defeated Cadence 8-2 in a game which kicked off the Major General's Finals Day, which reminded the Club of its military roots and how important our relationship continues to be with the Armed Forces.
Los Alquimistas: Anthony Donovan (-1); Louisa Donovan (0); Charlie Wooldridge (2); Spencer McCarthy (1). Hackett Army Polo: 2Lt Freddie Benyon (Coldstream Guards, 0); Capt Mossy Hamilton (Irish Guards, 0); Lt Giles Bromley-Martin (Irish Guards, 1); Capt Jamie Drummond-Moray (Scots Guards, 1).
Sladmore Gallery: Heiko Voelker (0); The Lord Manton (0); James Crossley (1); Edward Horswell (1). Stable Cottage: Adebayo Karim (0); Mo Sheikh (0); Alexander Nix (); Jamie Hayward (0).
BG Polo: Konstantin Graf von Schweinitz (0); Cameron Bacon (0); Thilo Sautter (1); Simon Holland (0). Cadence: Elodie Avarguez (0); Hilali Noordeen (0); Alejandro Penafiel (0); Nick Beitner (1).
---