Guards Polo
Club News
Back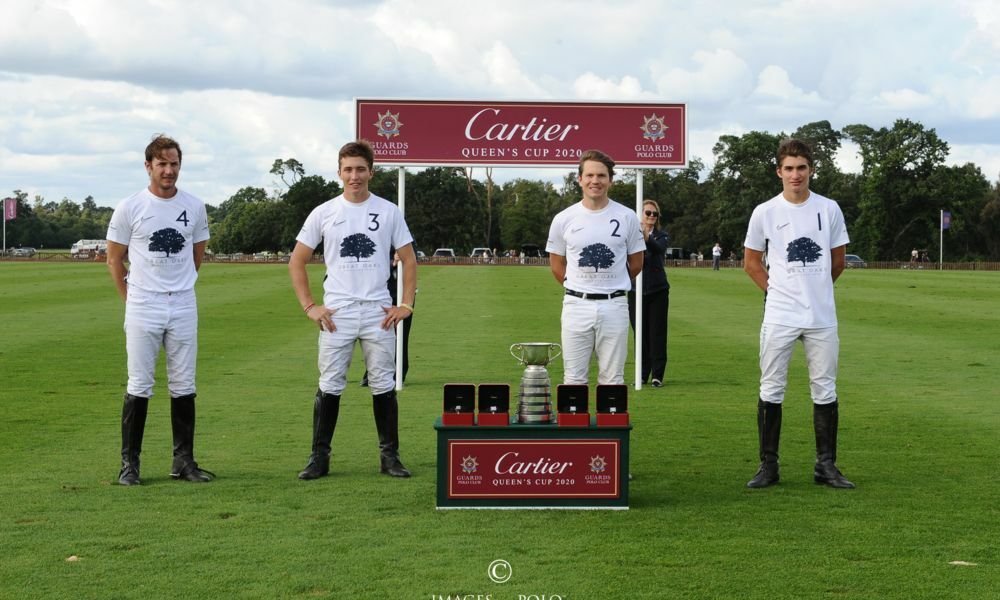 Les Lions/Great Oaks seize Cartier Queen's Cup trophy in extra time
24th August 2020
---
Les Lions/Great Oaks this afternoon received one of the sport's most important trophies, the Cartier Queen's Cup. They beat Park Place on The Queen's Ground at Guards Polo Club in extra time. This tournament is considered one of the most prestigious and renowned events of the British sporting calendar and this year was celebrating its 60th anniversary. HM The Queen personally gifted the Cup to Guards Polo Club in 1960.
Although today's final was a little unusual as it was played behind closed doors due to the coronavirus pandemic, Cartier proudly continues to sponsor this high-goal tournament. The Maison has been the honoured sponsor for the past eight years and a supporter of polo worldwide for more than 30 years. In addition, Laurent Feniou, Managing Director of Cartier UK, could not attend as he was self-isolating at home due to a recent overseas trip but sent a message to all the teams taking part today.
"It has been incredible to see such powerful games played by some of the very best polo players in the world, during this year's Cartier Queen's Cup Polo, despite the unprecedented turn of events this year. I am truly inspired by the resilience and talent of these wonderful players capturing the true essence and spirit of the sport."
Ten world-class teams had entered this year's tournament and have been playing over the past three weeks in a bid to reach today's final. This afternoon, in a thrilling and competitive match Dillon Bacon's Les Lions / Great Oaks defeated Andrey Borodin's Park Place, adding their name to an illustrious cohort of teams for the first time. Les Lions were ahead in this game at half-time (4-3) but Park Place rallied in the second half to force the game into extra time. The 17-year-old Jeta Castagnola then fired through the winner for Les Lions / Great Oaks.
Dillon Bacon received the prestigious silver cup from Mr Brian Stein, the Chairman of Guards Polo Club. Dillon was also named the Cartier Most Valuable Player, while the stallion Challo Angelo, played by both Barto and Jeta Castagnola in this match, received the Cartier Best Playing Pony prize, a Cartier rug. Every member of the winning team received a Cartier Tank watch.
Lions/Great Oaks: Camilo (Jeta) Castagnola (7); Dillon Bacon (2); Bartolome Castagnola Jnr (8); Santiago Laborde (6). Park Place: Andrey Borodin (0); Will Harper (3); Gonzalo Pieres (9); Facundo Pieres (10). Park Place received 1 goal on handicap.
---