Guards Polo
Club News
Back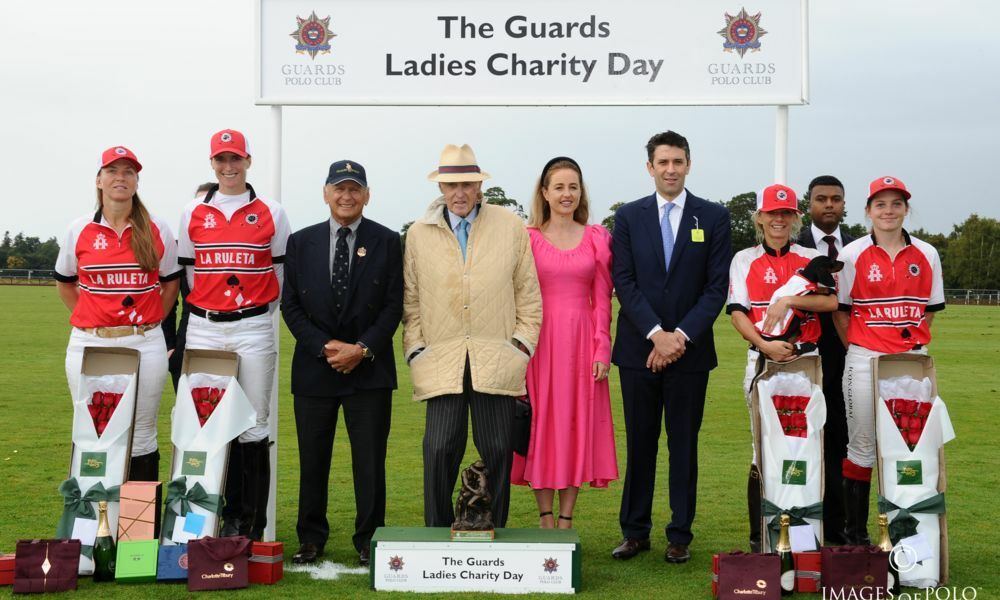 La Ruleta rule Ladies 18-Goal
2nd September 2019
---
The La Ruleta team opened the 2019 Guards Ladies Charity Tournament some 10 days ago and closed the competition on Saturday by winning the final, the Lord Patrick Beresford Trophy, plus a heap of goodies. This team (receiving 11/2 goals) defeated HH Sheikha Maitha's UAE Polo Team, finalists for the second successive year, 71/2 - 6. Nina Clarkin, the world's top lady player, was impressive throughout all four chukkas for La Ruleta, saving balls in front of goal and delivering some strong, powerful shots up The Queen's Ground.
UAE Polo's nine-goal player, Hazel Jackson-Gaona continually tried to counteract Nina's advances, but La Ruleta did a great job in working well as a team. Not surprisingly, Nina was later named The Most Valuable Player, while one of her impressive string of ponies, Heidi, a 15-year-old New Zealand Thoroughbred, received the Best Playing Pony Prize.
Ten teams had entered this year's competition, the highest number of teams entered into any women's tournament in the world this year. So, not surprisingly the sub final earlier in the day was equally competitive. Honours in this match went to Jayne Rumsey's Iona House Gallery (rec 1/2 goal). They defeated the Woo Woo team 41/2-3 on The Duke's Ground.
The final match of the day saw a GPC Smart Works Polo Team play the visiting Hesketh Ladies for the Club's Ladies Charity Trophy. After four tight chukkas and the score reading 2-2, both teams shook hands and settled for a draw. Captains Kim Roche and Louisa Donavon went together to receive the trophy from Club Chairman Brian Stein. GPC Smart Works Polo's Elodie Avarguez was named the Most Valuable Player, while Hesketh Ladies' Sarah Wiseman's Wonder received the beautiful Longacres flower headcollar for being the Best Playing Pony.
Away from the field of play the biggest winner of the day was the charity benefiting from this event - Smart Works Reading.. it is too early to confirm the total sum raised but with a packed Clubhouse for lunch, enthusiastic bidding for the live and silent auctions and eager bidders for Smart Works' innovative Magic Tree, we are hoping to be sending a substantial cheque their way soon. With a great vibe at the Club from morning 'til late - with fabulous, pop-up shops, Truefitt & Hill offering wet shaves and men's haircuts on the La Martina Lawn and plenty of delicious food offerings, plus lunchtime live music from Mollie Marriott and James Park DJ closing the day - this was a day to remember at Smith's Lawn for all players or spectators.
La Ruleta: Alicia Woods (0); Olivia Uechtritz (3); Lucy Coddington (5); Nina Clarkin (10). UAE Polo Team: HH Sheikha Maitha bint Mohammed Al Maktoum (4); Catalina Lavinia (2); Milly Hine (5); Hazel Jackson-Gaona (9).
Iona House Gallery: Jayne Rumsey (1); Alice Gipps (3); Lottie Lamacraft (6); Sarah Wiseman (7). Woo Woo: Dayna Waechter (3); Saskia Meadows (4); Emma Boers (5); Rebecca Walters (6).
GPC Smart Works Polo: Yolanda Arber (-2); Elodie Avarguez (0); Louisa Donovan (0); Nina Clarkin (3). Hesketh Ladies Polo: Kim Roche (-2); Kristin Grube (-2); Lauren Dickson (-2); Sarah Wiseman (2).
---