Guards Polo
Club News
Back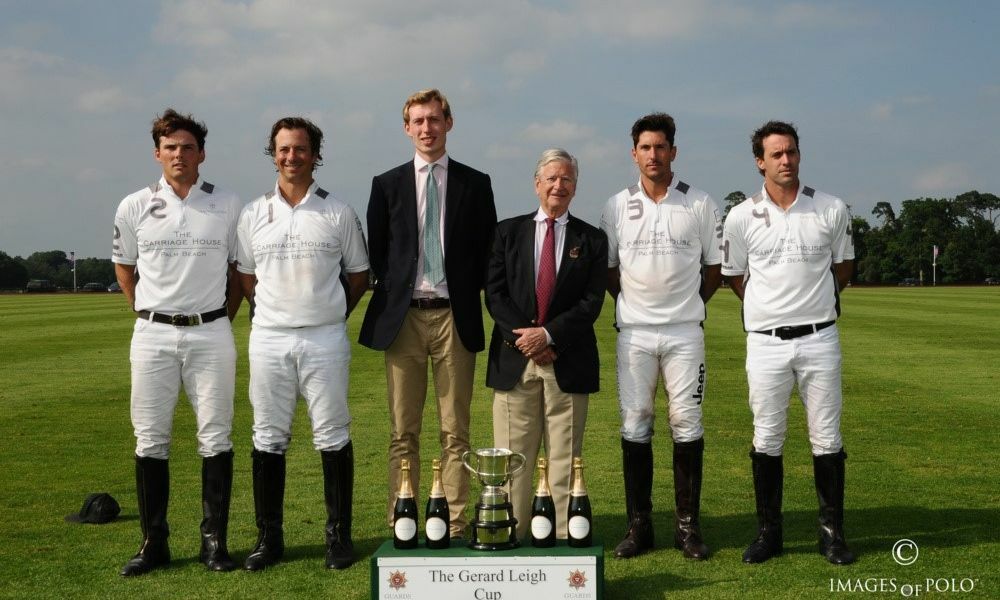 La Indiana and La Bamba de Areco win through to Cartier semi-finals
10th June 2018
---
Jean Francois Decaux led his La Bamba de Areco team to victory in the third Cartier Queen's Cup Quarter-Final game of the weekend. They comfortably defeated Max Gottschalk's Les Lions 13-9 in a fairly one-sided game on the Castle Ground at Flemish Farm. Les Lions started the match strongly and were 2-1 up at the end of the first chukka, but this was the only time in the game that they were ahead. Three goals from La Bamba's professionals, Byron Watson, David Stirling and Juan Martin Nero, showed this team's intent. The latter players then went on to deliver a quartet of goals each to secure this team's place in Wednesday's semi-final. Joaquim Pittaluga did his best to keep Les Lions' hopes alive, scoring six of his team's goals, but La Bamba's 8-4 advantage at half-time proved insurmountable.
Unfortunately for Spencer McCarthy and his Emlor team, La Indiana found their form on the Queen's Ground at Guards Polo Club this afternoon. Michael Bickford's team had appeared to struggle in some of their previous matches, but there was no doubt about their commitment this afternoon. They were 4-0 up at the end of the second and never looked back. That said, this was a fast game at times, with both teams delivering some lovely runs up the field, but La Indiana inevitably won each horse race.
This was not surprising when Facundo Pieres – playing in his first season with La Indiana – was mounted on two previous winners of the Cartier Best Playing Pony prize, Galactica in the third chukka and Cube in the fifth. Another stand-out pony today was ridden by Diego Cavanagh, who was the first to find the flags for Emlor – in the third chukka. He had been loaned one of Adolfo Cambiaso's clones, Lapa 06, whom he played in the third and sixth chukkas. Another Lapa clone is being played by Cambiaso's son, Poroto in the Hildon Archie David eight-goal tournament, while Cambiaso has loaned another to his Valiente team-mate Hugo Lewis. Emlor got themselves back into the game in the fifth, closing the gap to 11-5 going into the sixth and final chukka. This is 22-goal polo and teams have come back from such a score-line in the past, but La Indiana were not taking any chances. Pieres flew to goal from the throw in at the start of the sixth. Agustin Merlos converted a penalty late on, but it was too late to change the outcome of this game and it was Bickford that collected the Gerard Leigh Trophy from Col William Gerard Leigh's grandson James. La Indiana will now play La Bamba de Areco at 4pm this Wednesday afternoon in the second semi-final.
La Indiana are pictured with James Gerard Leigh and Jock Green-Armytage after winning the Gerard Leigh Cup, played as a Cartier Queen's Cup Quarter Final. Copyright Images of Polo
---