Guards Polo
Club News
Back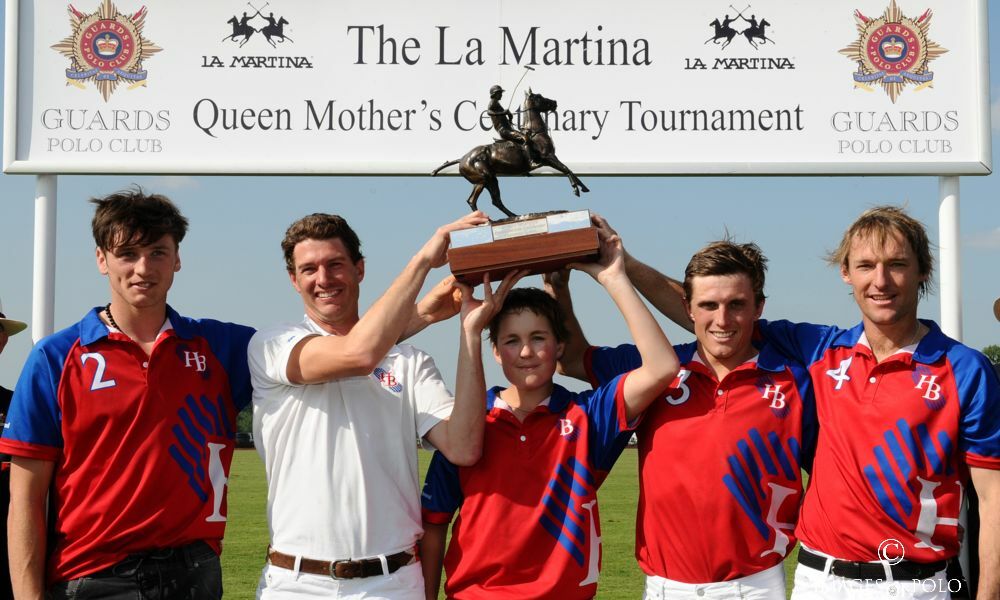 HB La Forge find golden goal to win La Martina Queen Elizabeth The Queen Mother's Centenary Trophy
25th May 2018
---
Sebastien Pailloncy added his team's name, HB La Forge, to the La Martina Queen Elizabeth The Queen Mother's Centenary Trophy for the first time, but only after a thrilling battle against King Power that went into extra time. Played in warm sunshine in front of a busy Guards Polo Club – La Martina guests mingled with the Argentine Ambassador, the Anglo Argentine Society and the Bentley Drivers Club – this match delivered four flying chukkas which were appreciated by everyone.
It had looked to be a clear win for HB La Forge in the first chukka when they were up 3-0 after seven minutes. This team worked well together to close down any King Power attack and Mark Tomlinson, well supported by his patron, had no problem finding the flags.
It was all change in the second though – you can never underestimate a team with horsepower such as King Power. It had looked as if HB La Forge might continue to dominate when this chukka started as Richard Tyrone spectacularly saved a penalty off the stick off King Power's Juan Martin Zubia. This save though only appeared to inspire the young Argentine and he promptly levelled the scores before the half-time bell.
This chukka also saw Pailloncy take a heavy fall in the goalmouth and although he was able to remount and continue to the end of the chukka, he retired at half-time. His place was taken by the young Englishman Ralph Richardson. Any team change always alters the team dynamic and King Power made the most of this, with Zubia scoring his fourth goal to put King Power in the lead for the first time. Team-mate Marcos di Paolo then followed that up with a lovely goal from the throw-in. HB La Forge were now back in the hunt, with Tomlinson getting one back before the start of the fourth.
This final chukka was a display of fast and flowing polo; both teams knowing they had a chance to take home the La Martina trophy. A Zubia penalty gave King Power a two-goal advantage – and a bit of breathing space – only for Tomlinson to close the gap. Then, after a melee in the King Power goalmouth, HB La Forge found the equaliser. With the crowd holding their breath, the teams battled but could not find that winning goal. It was time for an extra chukka. This started with a throw-in just inches from King Power's goalmouth and Tyrone sent a pass to Tomlinson to secure HB La Forge's victory.
Pailloncy joined his team-mates at the presentation and received the trophy from La Martina Royal Box guest Charlie Mills. Fellow guest Chloe Keenan presented the La Martina Most Valuable Player prize to Zubia and his team-mate, Di Paola collected the Polo Times Best Playing Pony prize from Richenda Hine for the nine-year-old X9.
The sub-final had been an equally close game on The Duke's Ground earlier in the day and was a victory for Alan Fall's Mad Dogs. They defeated Charlie Wooldridge and James McCarthy's Twelve Oaks/Emlor (rec ½) 7-6½.
HB La Forge: Luke Wiles (1); Sebastien Pailloncy / Ralph Richardson (3); Richard Tyrone (5); Mark Tomlinson (6). King Power: Marcus Cork (1); Ned Hine (1); Juan Martin Zubia (6); Marcos Di Paola (7).
Mad Dogs: Tommy Severn (0); Alan Fall (0); Will Emerson (5); James Harper (7). Twelve Oaks/Emlor: James McCarthy (1); Charlie Wooldridge (2); Michel del Carril (6); Jacinto Crotto (5).
---