Guards Polo
Club News
Back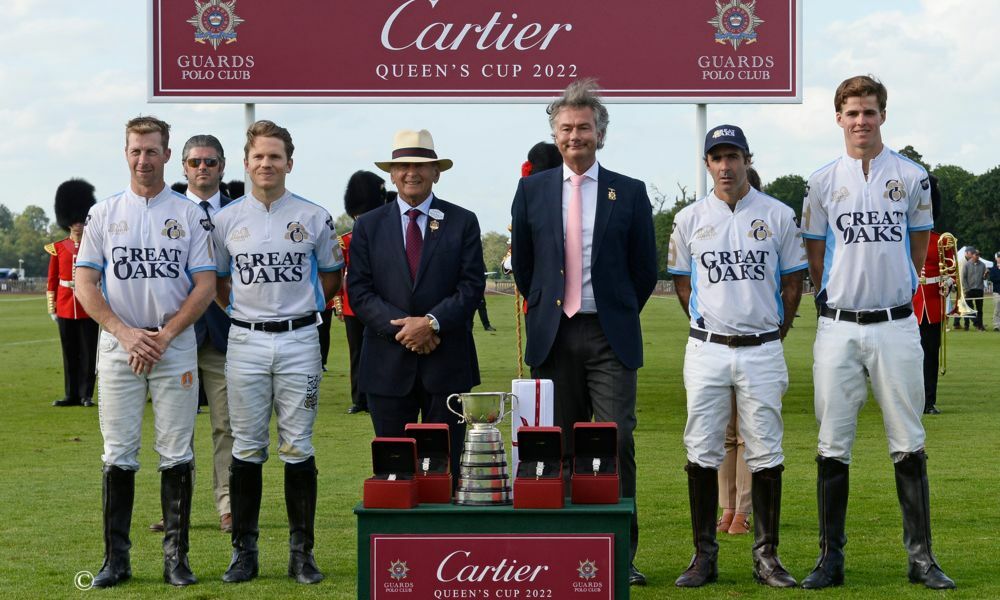 Great Oaks LL Win Cartier Glory with Golden Goal
13th June 2022
---
Following four weeks of world-class competition, the final of the Cartier Queen's Cup was finally underway on Sunday 12 June between Dillon Bacon's Great Oaks LL and Andrey Borodin's Park Place Vaara on our famed Queen's Ground. The highly anticipated final featured Park Place Vaara in search of their organisation's first title after reaching the final on three of the past four seasons, against Great Oaks LL, looking to reclaim the title they won in 2020.
Setting the tone early from the field, Park Place Vaara's Hilario Ulloa launched the ball from 60 yards out to score just seconds into the game. This initiated a strong first chukka where Park Place Vaara took a 3-0 lead, completed by a Penalty 2 from Juan Britos. With time running out in the opening chukka, Cruz Heguy completed a breakaway run to keep Great Oaks LL within reach, trailing 3-1. That field goal would prove to be Great Oaks LL's only one of the first half as both defences provided few opportunities in a tightly marked match.
Receiving a pass from Britos at midfield, Ulloa's second goal pushed Park Place Vaara further ahead in the second chukka, but penalty goals accounted for the rest of the attacking play, with Britos and Heguy exchanging penalty conversions to leave Park Place Vaara ahead 5-3 at half-time.
Field goals continued to be difficult to come by as neither team found the goal for the second consecutive chukka with one penalty tally for each team. Park Place Vaara's combined effort defensively allowed them to maintain their two-goal advantage into the sixth chukka, seemingly leaving them just seven minutes from victory. Stealing the ball from a knock-in, Britos fought his way to goal and was fouled just steps from the post, knocking in a Penalty 2 to put Park Place Vaara ahead by three and bring the Cartier Queen's Cup title within their reach.
Time ticked down to inside the final four minutes when Juan Martin Nero scored from distance for, incredibly, the first Great Oaks LL field goal since the opening chukka. Scoring his second goal shortly after, Nero brought Great Oaks LL within one with just over one minute remaining in what was now a thrilling conclusion. Working the ball down the right side, Nero hit a neckshot across goal and with a quick turn of his horse, Heguy gained possession and found the goal to send this match into overtime.
Stunned by the late comeback from Great Oaks LL, Park Place Vaara found the first opportunity in overtime, receiving a Penalty 4 to win the game and the title. However this ball was hit short, ensuring this nail-biting match continued. Hitting a long ball from midfield, Nero sent James Beim racing towards goal under pressure from Britos. Winning the ride-off, Beim picked up the ball on the nearside and ran it through the goal, ensuring Great Oaks would win this epic final 9-8.
Laurent Feniou, Managing Director of Cartier UK, sponsors of this 22-goal tournament since 2012, presented the trophy to Dillon Bacon. Juan Martin Nero, thanks to his brilliant play to turn this match around, was named the Cartier Most Valuable Player, while Hilario Ulloa stepped forward to receive the Cartier Most Valuable Player prize for Lucinda Ambar. This pony had also been recognised with a similar award in Park Place Vaara's semi-final match.Earlier in the day the UAE Polo Team, featuring Lucas Monteverde Jnr for the first time this season, faced King Power on The Duke's Ground to determine the winner of the subsidiary Cartier Trophy. Initiating a dominant first half for King Power, back-to-back goals from Mackenzie Weisz and Nicolas Pieres were briefly interrupted by a successful drive from UAE Polo Team's Bartolome Castagnola Jnr. However, the first half continued to belong to King Power as Pieres took over play from the field scoring four goals in the first three chukkas of play, including the only penalty conversion of the match. With Pieres leading a six-goal run, contributions from teammates Weisz and James Harper saw King Power firmly in control of the match to take a commanding 8-1 lead at the break.
Finding their first defensive successes in the early stages of the second half, UAE Polo Team were able to hold King Power's potent field attack to just one goal off the mallet of Pieres as they began to mount a comeback. An early goal in the fourth chukka from Tomas Beresford kick-started the re-surgency of Castagnola Jnr, scoring four second half goals on seven shot attempts. UAE Polo Team managed to bring themselves within two, but two crucial missed penalty opportunities and their substantial first half deficit was ultimately too much to overcome, as King Power held on to take the Cartier Trophy 9-7. Mackenzie Weisz was named the Cartier Most Valuable Player in this subsidiary final.
Great Oaks: James Beim (6); Dillon Bacon (2); Juan Martin Nero (9); Cruz Heguy (5). Park Place Vaara: Josh Hyde (0); Juan Britos (8); Hilario Ulloa (10); Santos Merlos (4).
King Power: Beltran di Paola (1); Mackenzie Weisz (5); Niolas Pieres (9); James Harper (7). UAE Polo Team: HH Sheikha Maitha (0); Lucas Monteverde Jnr (6); Bartolome Castagnola Jnr (9); Tomas Beresford (7).
---