Guards Polo
Club News
Back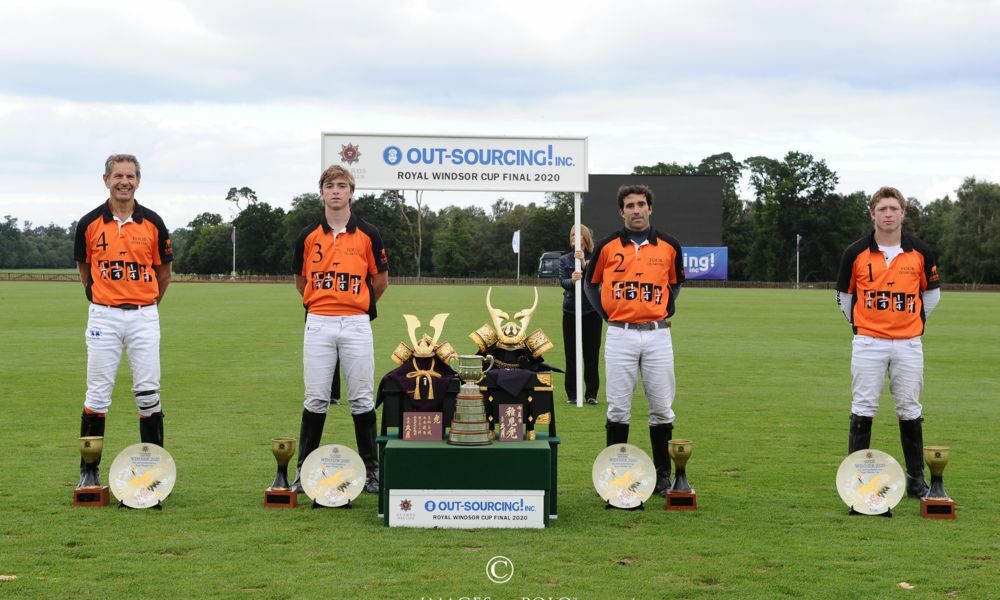 Four Quarters Orange claims Out-Sourcing! Inc. Royal Windsor Cup glory in extra time
31st August 2020
---
Simon Arber lifted the UK's leading 15-goal trophy on Sunday afternoon when his Four Quarters Orange squad won the Out-Sourcing! Inc. Royal Windsor Cup. They defeated Jasmine Calvert-Ansari's White Crane 10-9 in extra time after five regular chukkas. Ignacio Negri fired through the winner, ensuring that Simon added his name to this coveted trophy for the third time.
The young Englishman Jack Hyde, who had been outstanding throughout this tournament, was named the Out-Sourcing! Inc. Most Valuable Player. He received a stunning kabuto helmet from Mr Andrew Bentley, representing the sponsors. Out-Sourcing! Inc. is in their third year of sponsorship of this prestigious trophy, which was first played for at Guards Polo Club in 1955, and this Japanese company always awards inventive and memorable prizes to all of the players, created using traditional, Japanese craft skills. Ignacio not only received his winners' prizes but also a stunning trophy for the nine-year-old gelding Forestero, who was named the Out-Sourcing! Inc. Best Playing Pony. Ignacio had played this pony in the game-changing fourth chukka, scoring two great goals.
White Crane, competing in their first Royal Windsor final, were not intimidated by Four Quarters' previous successes – Simon Arber's team had won on their two prior Royal Windsor Cup final appearances in 2014 and 2016 – and Jasmine's team were 6-4 up at half-time and looking strong. This was thanks to some great play from Andrew Blake Thomas, Tom Brodie and James Harper. Four Quarters fought back in the fourth, putting themselves very much in contention with the score reading 7-7. With two more goals from both sides in the fifth chukka extra time was inevitable, so allowing Ignacio to fire through the golden goal.
Eleven teams had entered this year's competition, which is played as part of the Hurlingham Polo Association's 15-goal Victor Ludorum. Such depth of talent on the field ensured the sub final for the Mountbatten Trophy was equally competitive. Played in the morning at Flemish Farm, Alan Fall's Mad Dogs had a comfortable win over Hilali Noordeen's Casa La Vista Ibiza. Alan's team last won this trophy in 2015 and looked confident throughout these five chukkas. They were 7-2 up at half-time, and despite some fast, flowing play in the second half from Casa La Vista Ibiza, they could not close the gap.
Four Quarters Orange: Jack Hyde (4); Ignacio Negri (6); Felipe Dabas (5); Simon Arber (0). White Crane: Jasmine Calvert-Ansari (0); Tom Brodie (4); Andrew Blake Thomas (4); James Harper (7).
Mad Dogs: Alan Fall (1); William Harper (3); Juan Ambroggio (6); Will Emerson (5). Casa La Vista Ibiza: Louis Hine (2); Hilali Noordeen (0); Joaquin Pittaluga (7); John Paul Clarkin (6).
---