Guards Polo
Club News
Back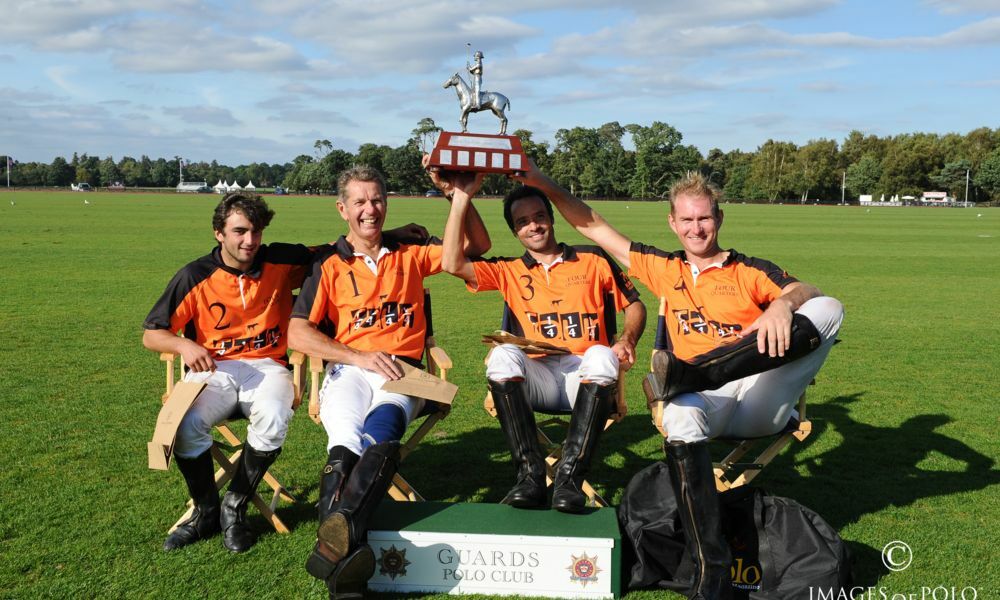 Four Quarters finish season with victory
21st September 2018
---
Simon Arber's Four Quarters Orange rounded off their 2018 season with an impressive victory in the Club's Autumn Nations Tournament. They defeated Alejandro Penafiel's El Rosario (rec 1/2 goal) 6-41/2 after four chukkas.Winners of the sub final last year, this time Four Quarters Orange topped the podium.
Four Quarters were in command from the first whistle. They were 5-0 up at half-time and although they failed to score in the third, their superiority was never in doubt. El Rosario did find their form in the second half, firing through four goals, but it was too late to stop Four Quarters Orange winning the match.
Guards Polo Club's Chairman Jock Green-Armytage, who was retiring from this role on this day, presented the prizes,. This included The Polo Magazine's Most Valuable Player bag of goodies to Juan Ambroggio.. One of his string, Pprfiada was then named the Polo Times Best Playing Pony.
Eleven teams had entered this always competitive 10-12-goal tournament and so the sub-final, which had been played earlier in the day, was equally fast-paced. Shoreline - minus their patron Tunde Karim - put up a convincing performance against Christopher Bruckner's Asian Art/Cool Hooves team. Thanks to some sharp shooting from Shoreline's Santiago De Estrada in particular,,Shoreline won this sub-final 9-4.
Win or lose though, there was a great feeling of camaraderie on this final day of the 2018 season. This Autumn Nations Trophy sub final was just one of the 500+ games that had been played this year and with the Club bathed in the most perfect, September sunshine, players and social members lingered long on the Terrace after the matches, reluctant to call a halt on another fantastic season.
---