Guards Polo
Club News
Back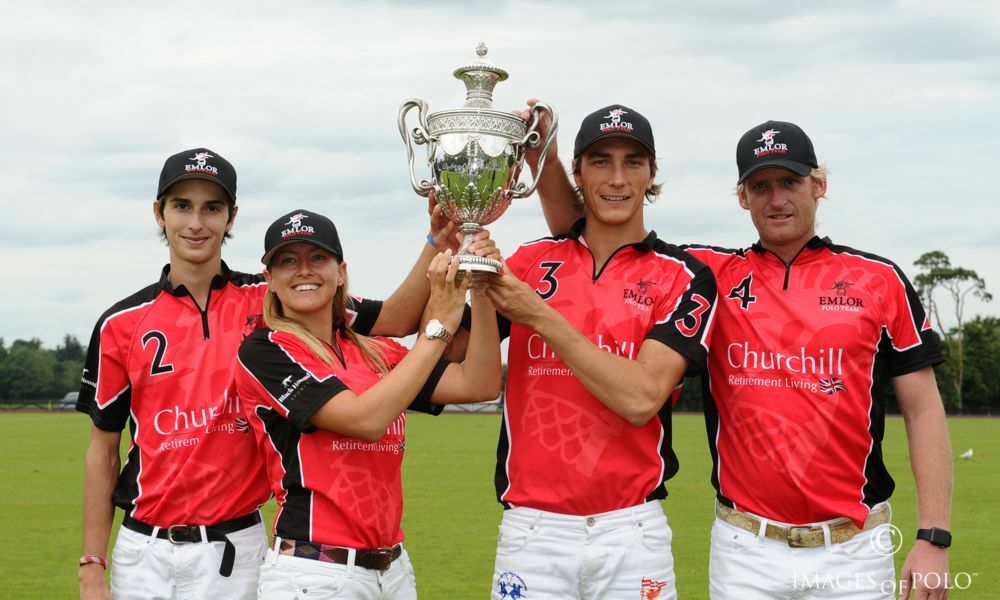 Emlor C win Wellington battle
21st August 2017
---
Emma McCarthy's Emlor C captured the Duke of Wellington Trophy on Sunday after a tough battle against Beaufort Black Hounds. They won this final - a qualifier for the Hurlingham Polo Association's 12-goal Victor Ludorum - 6-5, but had to fight for every goal.

Jack Richardson led from the front, easy to spot in the midst of the action in his bright blue helmet, and his determination was rewarded with the The Polo Magazine Most Valuable Player Award. He received this prize from Janine Ramsay, who had accompanied Lord Christopher Wellesley, a son of the 8th Duke of Wellington, to the polo. They also presented Jack, and his groom Carlos Soto, with the Polo Times Best Playing Pony prize for Nobu, a nine-year-old, English Thoroughbred mare whom Jack had played in the first and fourth chukkas.

Not only were the spectators treated to a fast-paced final on The Queen's Ground, but this match was a great advert for British polo. Tommy Severn and Luke Wiles played superbly for Beaufort Black Hounds, while Henry Fisher did a great job of defending for Emlor C. His patron, Emma McCarthy also contributed to her team's success, delivering another strong performance.

The sub final, which had been played earlier in the day, was an equally close game, highlighting the depth of talent in all 10 teams that had entered this 8-goal competition. Mo Sheikh's Bridge House of Twyford took the honours in this game, defeating Alejandro Penafiel's El Rosario 6-5.

Emlor C: Emma McCarthy (0); Jose Araya (2); Jack Richardson (6); Henry Fisher (4). Beaufort Black Hounds: Luke Wiles (1);. Tommy Severn (2); Jack Berner (3); Mark Tomlinson (6).

Bridge House of Twyford: Mo Sheikh (0); Ralph Richardson (2); Nico Roberts (3); John Paul Clarkin (7). El Rosario: Alejandro Penafiel (0); Jack Hyde (3); Hernan Muzzio (3); Hissam Ali Hyder (6).
---