Guards Polo
Club News
Back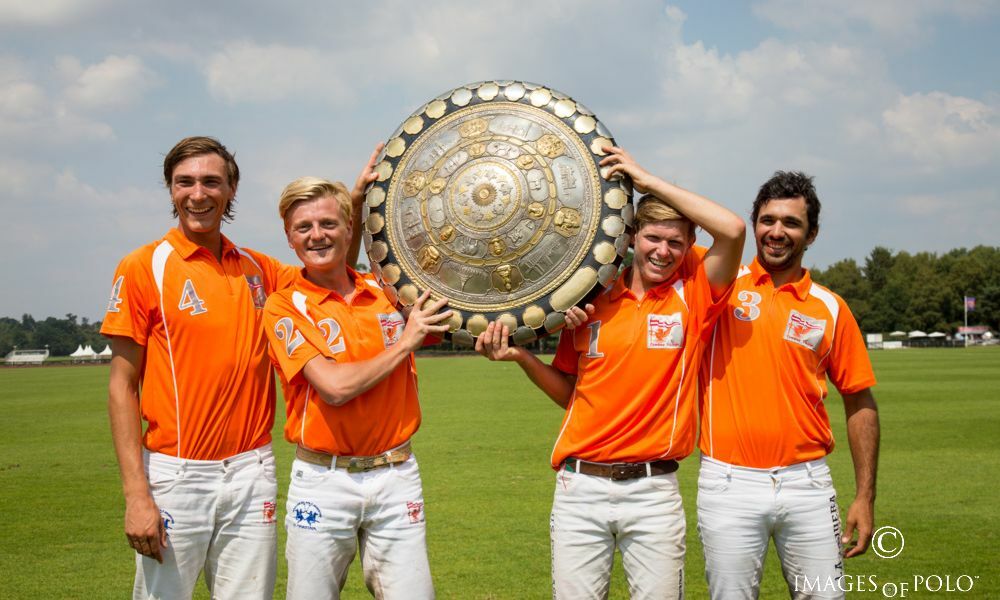 Cowdray Vikings put up successful raid for Indian Empire glory
5th August 2018
---
The distinctive orange shirts of the Cowdray Vikings team won the 18-goal Indian Empire Shield in mid July. Played on The Queen's Ground in unprecedented heat, the Vikings put on an impressive performance to beat Sebastien Pailloncy's HB La Forge 9-5.
Cowdray Vikings, led by their patron George Pearson, dominated the game from the first bell. They scored three goals alone in that first period, including a penalty from Juan Gris Zavaleta, one of four he fired through in this game. HB La Forge, although they had some flashes of brilliance, failed to score at all in three chukkas of this five-chukka contest. The Vikings had a commanding lead (5-2) at half-time and although HB La Forge brought themselves back into contention, trailing by only one goal after the fourth (6-5), they could not continue the momentum. The Vikings retained their advantage until the very last play of the game.
Not only did Cowdray Viking's George Pearson lift the mighty Indian Empire Shield but his team-mate Ollie Cork was named The Polo Magazine's Most Valuable Player, receiving a bag full of goodies from the award sponsor. Meanwhile, HB La Forge's Mark Tomlinson and his groom Lucas Alvarez received the Polo Times Best Playing Pony prize for Pelusa, whom he had played in the second and fifth chukka.
Thirteen teams had entered this year's contest and with such a competitive entry, this 18-goal competition had delivered some great sport throughout some blisteringly hot weeks in July. That depth of talent was evident in the subsidiary final, which had been played earlier in the day at Coworth Park. James McCarthy's Emlor took the honours in this game, beating Romila Arber's Four Quarters Black 8-5 in another exciting, high-goal contest.
Cowdray Vikings: Ollie Cork; George Pearson; Juan Gris Zavaleta, Jack Richardson. HB La Forge: Luke Wiles; Mark Tomlinson; Ignacio Laprida; Sebastien Pailloncy.
Emlor: James McCarthy; Marcos Araya; Michel del Carril; Nacho Gonzalez. Four Quarters Black: Romila Arber; Max Charlton; Ignacio Negri; Benjamin Urquiza
---