Guards Polo
Club News
Back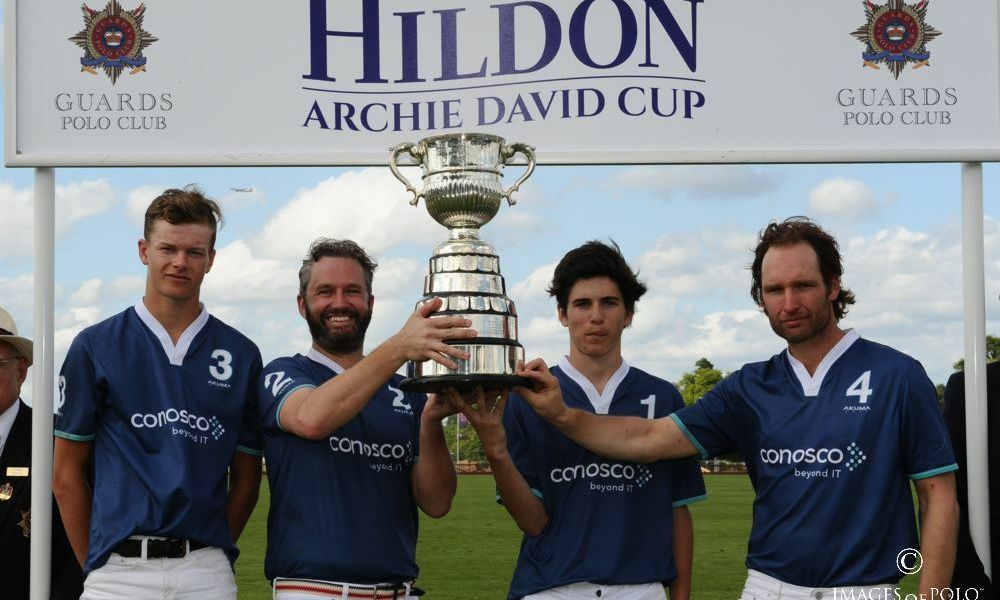 Conosco add name to prestigious Hildon Archie David Cup
1st July 2019
---
Jeremy Pemberton's Conosco added its name to the Hildon Archie David Cup for the first time on Sunday after a tough test against Charlie Wooldridge's Twelve Oaks on The Queen's Ground at Guards Polo Club. It was the Most Valuable Player Will Emerson, who delivered this victory, in the final moments of the game. He produced a huge shot to goal – the commentator referred to it as the best goal of the competition – to ensure Conosco won this four-chukka final 4-3. Will Emerson also received the Best Playing Pony prize from Simon Prosser, Sales and Marketing Director for Hildon, for Lotus, a gelding whom Will had played in the second chukka.
With 28 teams having entered this leading 8-goal tournament, which has been sponsored by Hildon for the past three years, this final was always going to be close. The first half, played in gloriously hot sunshine, was a wonderful display of flowing polo and the umpires whistles were rarely heard. Will Harper did a great job in defence for Conosco and they were 2-0 up at half-time, even though they had failed to convert several great runs down the field into goals. Some strong play from Twelve Oaks' Ed Banner Eve brought Charlie's team back into contention in the second half, with the patron himself levelling the score with only a minute left on the clock.
Earlier in the day Stefan Sund's Previse won the subsidiary Caterham Cup. They defeated Matt Green-Armytage's Saracen's team 7-5 in another strong game on The Duke's Ground. In a hallmark of this particular tournament, Guards teams that are knocked out at the league stages have a chance to compete for the Claude Pert Trophy. This was the first game of the day and was won by Tally Ho Farm. They beat Tchogan/Matrix 5-4 in a close game that was the hallmark of all the polo on this day.
---