Guards Polo
Club News
Back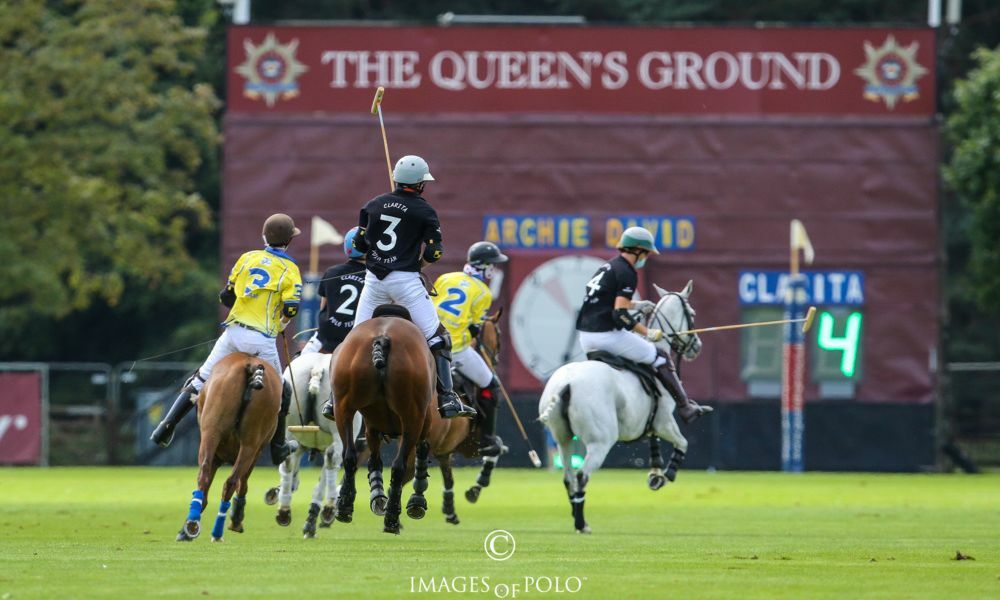 Clarita powers to Hildon Archie David Cup victory
6th July 2020
---
Clarita added their name to the prestigious, Hildon Archie David Cup on Sunday. They dominated the final of the UK's leading 8-goal tournament, beating Clive Reid's AFB 9-4. Louis Hine was outstanding for Clarita and not surprisingly headed home with the Hildon Most Valuable Player prize.
Chris Mathias's team dominated from the first whistle and had built up a commanding, 5-1 lead at half-time. AFB battled to get back into the game in the second half, with Pete Webb particularly producing some fast runs up the Queen's Ground. Sadly for Clive, who won this trophy with his AFB team a decade earlier, the damage had been done and Clarita won the day and one of the sport's most coveted polo trophies.
Louis Hine's team-mate Jack Hyde, who has been playing brilliantly in this tournament, also went home with a prize. He was presented with the Hildon Best Playing Pony rug for Molly.
Fifteen teams had entered this year's tournament which is part of the HPA's eight-goal Victor Ludorum series and was played under the HPA's Covid-19 guidelines and every game was behind closed doors. Not surprisingly, with such depth of talent in the tournament, the sub final for the Caterham Cup was equally competitive. Honours here went to Louise Jebson's team Cani. They narrowly beat Cuatro Estrellas 7-6.
The Guards teams that are knocked out of the Archie David after the league stages then have the opportunity to play for the Claude Pert Cup. It is named after a former military player who was our Polo Manger from 1957 - 1975. This year's winners were Christian Oberschneider and Ana Escobedo's Ojo Caliente/La Golondrina. The beat Nick Beitner's Pink Power 8-4.
If you want to watch the Hildon Archie David Cup Final and/or the Caterham Cup Final in full please click here
---