Guards Polo
Club News
Back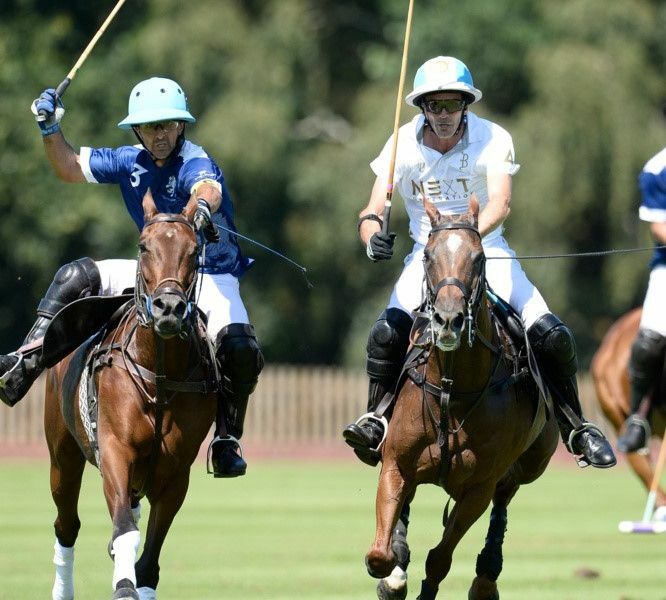 Cartier Queen's Cup Update Week Two
11th August 2020
---
A thrilling second week saw the 10 teams in the 2020 Cartier Queen's Cup jockey for position in the quarter-finals and semi-finals, setting the scene for what will be a pressure-filled series of games as eight teams fight for six spots, writes Michael Foster of Polocam TV / International Polo Academy. Thai Polo was the first time to secure their spot, finishing with a 3-1 record, where they will wait to see if they advance directly to the semi-finals. Meanwhile, Park Place and Next Generation will square off today (Tuesday) to determine the winner of League Two and the tournament's only undefeated 4-0 record.
Two games on Sunday, August 2nd came down to the final chukka as Scone Polo bounced back from an opening round loss to narrowly defeat Park Place Vaara 11-10. Scone claimed the victory from a dominant second half defensively that held Park Place Vaara to just two goals. Nico Pieres led all players with six goals, capitalising from the penalty line where he shot five for six in the victory. The second match saw a resilient Monterosso team challenge Park Place into the final chukka, taking advantage of inaccurate shooting from Park Place. Fighting to tie the game at 6-6 in the fourth chukka, Monterosso was unable to slow the duo of Facundo and Gonzalito Pieres, who combined for Park Place's last five goals in the 11-9 victory to improve to 2-0.
Fighting to keep pace with Park Place atop League Two, Next Generation continued their winning ways, defeating Segavas 11-9 in the only game on the sixth day of play. The duo of Diego Cavanagh and Poroto Cambiaso proved to be effective for Next Generation, leading an attack that shot 60% to score nine field goals. Segavas tried to utilise strong penalty shooting from Joaquin Pittaluga, who finished five for six from the penalty line, but their inability to slow the potent attack of Next Generation was the difference in this match.
A thrilling match between Les Lions/Great Oaks and MT Vikings highlighted the competition in League One, with Les Lions/Great Oaks capturing the 9-7 victory on an impressive comeback that saw them score five of the final six goals in the match. Late attacking play from Barto Castagnola and Dillon Bacon proved to be crucial for Les Lions/Great Oaks, as they took advantage of inaccurate shooting from MT Vikings to remain undefeated and move to the top of the group.
After a series of close matches, Thai Polo and Park Place dominated in their respective matches on August 5th beginning with a convincing 13-8 victory for Thai Polo over Park Place Vaara. Winning the game from the penalty line, an impressive nine for nine penalty shooting performance from Thai Polo's Tommy Beresford was the difference in the game. Juan Britos and Hilario Ulloa attempted to lead Park Place Vaara to victory, combining for six of their team's eight goals, but the inability to keep Thai Polo off the penalty line sealed their fate in the 13-8 defeat. In one of the more impressive attacking games of the tournament, Park Place scored 17 goals in five chukkas to overwhelm Polo Stud Schockemohle and capture a dominant 17-13 victory. Erasing the four-goal deficit on handicap in the first chukka with three goals from Gonzalito Pieres, Park Place continued to attack relentlessly, including two goals from Andrey Borodin. Building an eight-goal lead, Park Place cruised to the 17-13 victory and remained undefeated at 3-0.
A memorable ninth day of play featured two excellent matches, beginning with Next Generation capturing the last second victory over Monterosso. Held to just eight shots from the field, Next Generation faced a tough defence from Monterosso, who held the lead throughout most of game. Only a goal from Poroto Cambiaso, who scored in traffic as time expired, secured the 10-9 victory for Next Generation. Shortly after, Scone Polo displayed an impressive performance against previously undefeated Les Lions/Great Oaks, scoring 15 goals, 10 of which came from Nico Pieres. The foul-ridden game resulted in a combined 19 penalty attempts between the two teams, leaving the outcome to be decided on the penalty line. Four conversions in the final chukka for Pieres secured the 15-12 victory for Scone, who improved to 2-1 as they fight for a position in the quarter-finals.
The final two matches of the week saw Segavas capture their first victory, defeating Polo Stud Schockemohle 15-11, in large part due to the performance of Luke Wiles. Scoring five goals, Wiles was instrumental at the front of the game, leading Segavas' attack, while Joaquin Pittaluga added six goals of his own to lead Segavas past Polo Stud Schockemohle and keep their hopes alive. A match with major implications on the seeding in League One, Thai Polo captured the important 12-10 victory over MT Vikings to improve to a 3-1 record. Tommy Beresford continued to be the story of the tournament, leading the competition with 25 goals, including seven in this victory against MT Vikings. A red card saw Sebastian Merlos replaced by Ignacio Toccalino, who performed admirably for MT Vikings, but couldn't overcome the efficient attack of Thai Polo that saw Ned Hine contribute with five goals in one of his best showings of the season.
Play resumes today (Tuesday) with the final two days of qualification matches determining the six teams advancing into the quarter-finals and semi-finals at Guards Polo Club.
Don't miss a moment of the Cartier Queen's Cup 2020. Sign up to watch live at www.guardspoloclub.com/guards-tv and catch up with earlier contests
---