Guards Polo
Club News
Back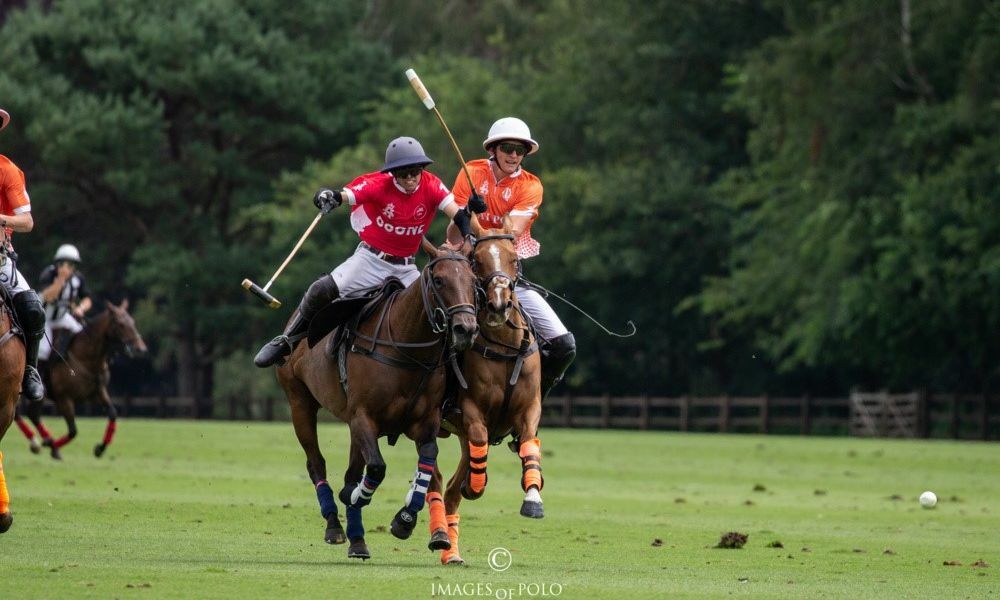 Cartier Queen's Cup Round-Up Week One
1st August 2020
---
---
Played behind closed doors due to the extenuating circumstances of Covid-19, the much-anticipated start to the 2020 Cartier Queen's Cup at Guards Polo Club began with each of the 10 competing teams playing their opening game of the tournament, writes Michael Foster.
In the opening game, those watching via Guards-TV were treated to a thrilling comeback victory for Thai Polo over Scone Polo, scoring the final five goals of the match thanks to the duo of Tommy Beresford and Jack Richardson. Early foul trouble for Thai Polo resulted in Scone Polo scoring a penalty goal in each of the first four chukkas but a reorganised defence from Thai Polo held Scone Polo scoreless over the final two chukkas to claim the two-goal victory.
An exciting second day proved to be successful for the Monterosso organisation as both MT Vikings and Monterosso captured victories over Park Place Vaara and Polo Stud Schockemohle respectively. An entertaining match between MT Vikings and Park Place Vaara saw little separate the two teams in the first half in what was ultimately a back-and-forth match. MT Vikings' Juan Martin Zubia converted all three penalty attempts in the second half, combining with James Beim to account for all their team's nine goals. Holding Park Place Vaara to just two shot attempts in the entire second half, MT Vikings defeated Park Place Vaara 9-7 in their Queen's Cup debut.
A quick pace was set by Monterosso against Polo Stud Schockemohle, heavily outshooting them 25 to 6 in a dominant team performance. Scoring three goals in four of the six chukkas, Monterosso was led by six goals from Ignacio Toccalino, along with three goals each from Alessandro Bazzoni and Jeronimo del Carril. Unable to produce enough scoring chances to keep pace with Monterosso's potent attack, Polo Stud Schockemohle scored just one field goal over the final three chukkas in the 13-10 defeat.
in one of the matches of the tournament thus far, Segavas gave Park Place a stiff challenge as the outcome was decided in the final minutes with Gonzalito Pieres scoring the game-winning goal for Park Place in their 12-11 victory Despite being outshot in the game, Park Place relied on the impressive penalty shooting of Facundo Pieres, who finished 7 for 8 from the penalty line. In a game that could have gone either way, Segavas, led by eight goals from Joaquin Pittaluga, pressured Park Place in the final chukka but were unable to convert any of their four shot attempts, falling one goal short in their season debut.
Cowdray Park Gold Cup finalists Les Lions/Great Oaks and Next Generation continued their winning ways on Friday at against Thai Polo and Polo Stud Schockemohle respectively. Recently raised to an eight-goal handicap, Bartolome Castagnola led Les Lions/Great Oaks to a thrilling 13-12 victory, leading all players with six goals. Holding a two-goal advantage on handicap, Thai Polo fought hard to maintain the advantage throughout the game, but a determined second half for Les Lions/Great Oaks saw contributions from all four players, with Dillon Bacon scoring two goals along with a game-winning goal for Santiago Laborde.
For the second consecutive game, Tommy Beresford was a standout player for Thai Polo with five goals as the team finished with a 1-1 record during this first week of play.Next Generation provided a statement victory over Polo Stud Schockemohle (rec 5 goals) to conclude the first round of play for the 10 teams, scoring 15 goals in just five chukkas. The 14-year old Poroto Cambiaso was arguably the best player on the field, amazing with seven goals on 78% shooting from the field and consistently racing past the Polo Stud Schockemohle defence. Erasing the five-goal deficit from handicap by the second chukka, Next Generation dominated possession for a run of 11 unanswered goals to cruise to the 15-10 victory.
---