Guards Polo
Club News
Back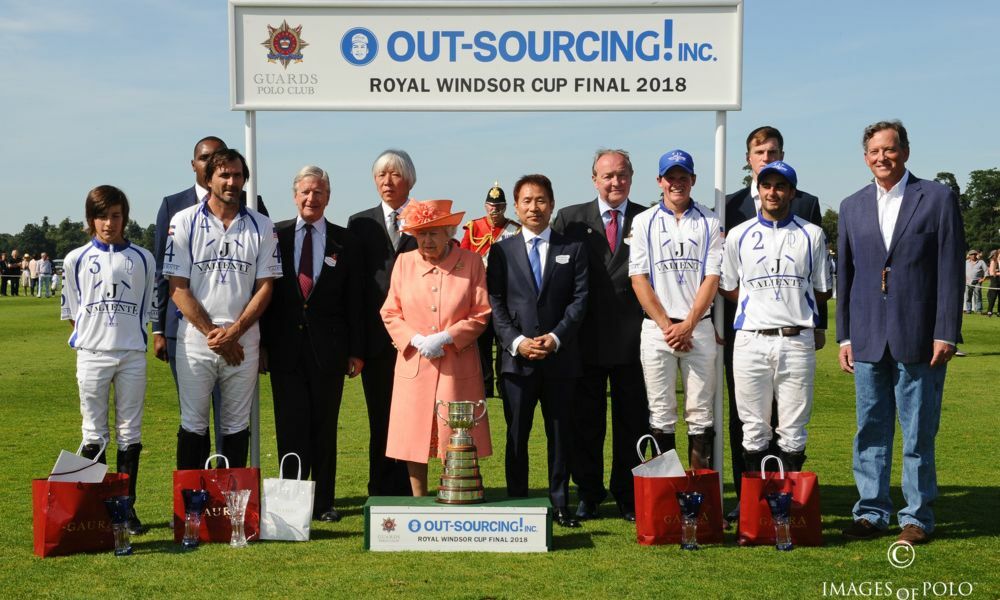 Cambiaso duo win Out-Sourcing Inc Royal Windsor Cup Final
25th June 2018
---
La Dolfina/Valiente - featuring for the first time the father and son combination of Adolfo Cambiaso and his son Poroto in a UK tournament - won the Out-Sourcing Royal Windsor Cup Final on 24th June. HM The Queen, who later presented the prizes, and HRH The Duke of Edinburgh watched the World's No 1 and his talented 12-year-old-son, a "mini me" if there ever was one, defeat Andrey Borodin's competitive Park Place, 11-7.
La Dolfina fielded a young squad - one of 22 teams entered - to win this coveted trophy with English players Kian Hall - who was strong in the number 2 position scoring at least 5 goals, - and Josh Cork helping to deliver some fast-paced polo. Park Place, who were defending their title, responded well - Jeronimo de Carril in particular having a very strong game - but La Dolfina led 2-0 after the first and never relinquished this advantage.
This is the second time that Cambiaso snr has won the UK's leading 15-goal trophy - he was a member of the victorious Geebung team in 2000.. This time he watched his current high-goal patron, Valiente's Bob Jornayvaz step forward to receive he trophy from HM The Queen and Mr Haruhiko Doi and Mr David Matsumoto of Out-Sourcing Inc.
In addition to Guards Polo Club's oldest piece of silverware, all the players in action today received a stunning, hand-made Kabuto helmet, traditionally worn by ancient Japanese warriors including the Samurai. The winners' helmets were life-size. and they also collected a 4-night trip to Japan each and some beautiful dancing diamond jewellery and pearl suit pins. Meanwhile the runners-up received a two-night trip to Paris.
Poroto, who was named Most Valuable Player, received a miniature set of ancient Japanese warrior armour, made in the traditional method. Cambiaso snr's Cruiser, a seven-year-old mare, owned by Ros Packer, was named Best Playing Pony, with Cambiaso receiving a traditional Japanese horse statue, again made using traditional techniques of wood and paper.
Earlier in the day a sprinkle of Hollywood glamour was added to the subsidiary Mountbatten Cup Final. Actor Susan Sarandon, a guest of Out-Sourcing for the day, joined Lady Tatiana Mountbatten and Out-Sourcing's Mr Kazuhiko Suzuki to present Andras Tombor's Bardon with the Cup. They beat Romilla Arber's Four Quarters Black 11-6.
A polo first also occurred on this day as Guards Polo Club signed the commentary on the big screen for all deaf visitors to the Club. The signing also featured on the live stream and was the perfect way to highlight the work that Out-Sourcing, sponsor of the Royal Windsor Cup, is doing to promote sign language as an international language.
---