Guards Polo
Club News
Back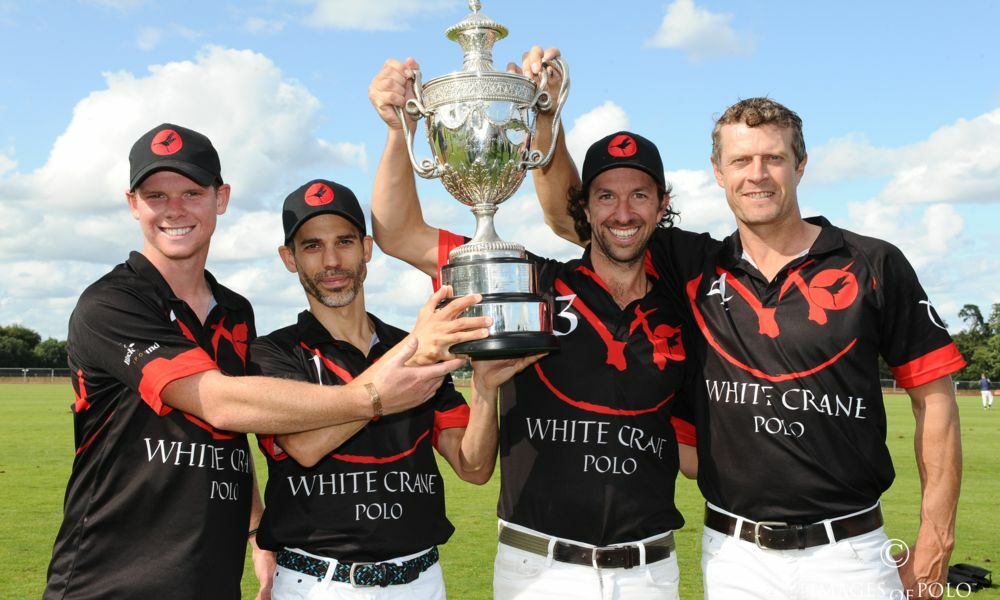 White Crane fight for Duke of Wellington honours
19th August 2019
---
Alexie Calvert-Ansari's White Crane team won the Duke of Wellington Trophy on 18 August on The Queen's Ground. However they had to fight every inch of the way to wrestle victory from Tunde Karim's Shoreline. Lord Christopher Wellesley's children - the grandchildren of the 8th Duke of Wellington after whom this trophy is named - presented the prizes after four thrilling chukkas.
The winning score was 7-6 but both teams struggled to gain a clear advantage at any time in the game. White Crane were leading 4-3 at half-time but Shoreline levelled (5-5) at the end of the third. England international, James Harper, gave White Crane the lead once again early in the fourth thanks to a penalty and then fired through a field goal soon after.
Henry Porter found the flags for Shoreline just on the bell to close the gap once again but this time it was too late and Alexie collected the trophy. Tunde Karim, who had a brilliant game at number two, did not head home empty-handed though. He was named the Most Valuable Player. James Harper's Lobster, a 11-year-old New Zealand Thoroughbred, whom James had played in the final two chukkas of this match, was named the Images of Polo Best Playing Pony.
Earlier in the day the sub final also went to a 7-6 conclusion. This time it was Andrew Dechet and Alan Fall's Kildare Dogs that came out best. They beat Gustav Rausing's Tempest on The Duke's Ground.
White Crane: Alexie Calvert-Ansari (0); Marcus Cork (1); Andrew Blake Thomas (4); James Harper (7). Shoreline: Santiago de Estrada (6); Tunde Karim (0); Henry Porter (3); Adolfo Casabal (3).
Kildare Dogs: Andrew Dechet (1); Alan Fall (0); Will Emerson (5); Manuel Plaza (6). Tempest: Gustav Rausing (0); Segundo Darritchon (2); Richard Tyrone (5); Ryan Pemble (5).
---