Guards Polo
Club News
Back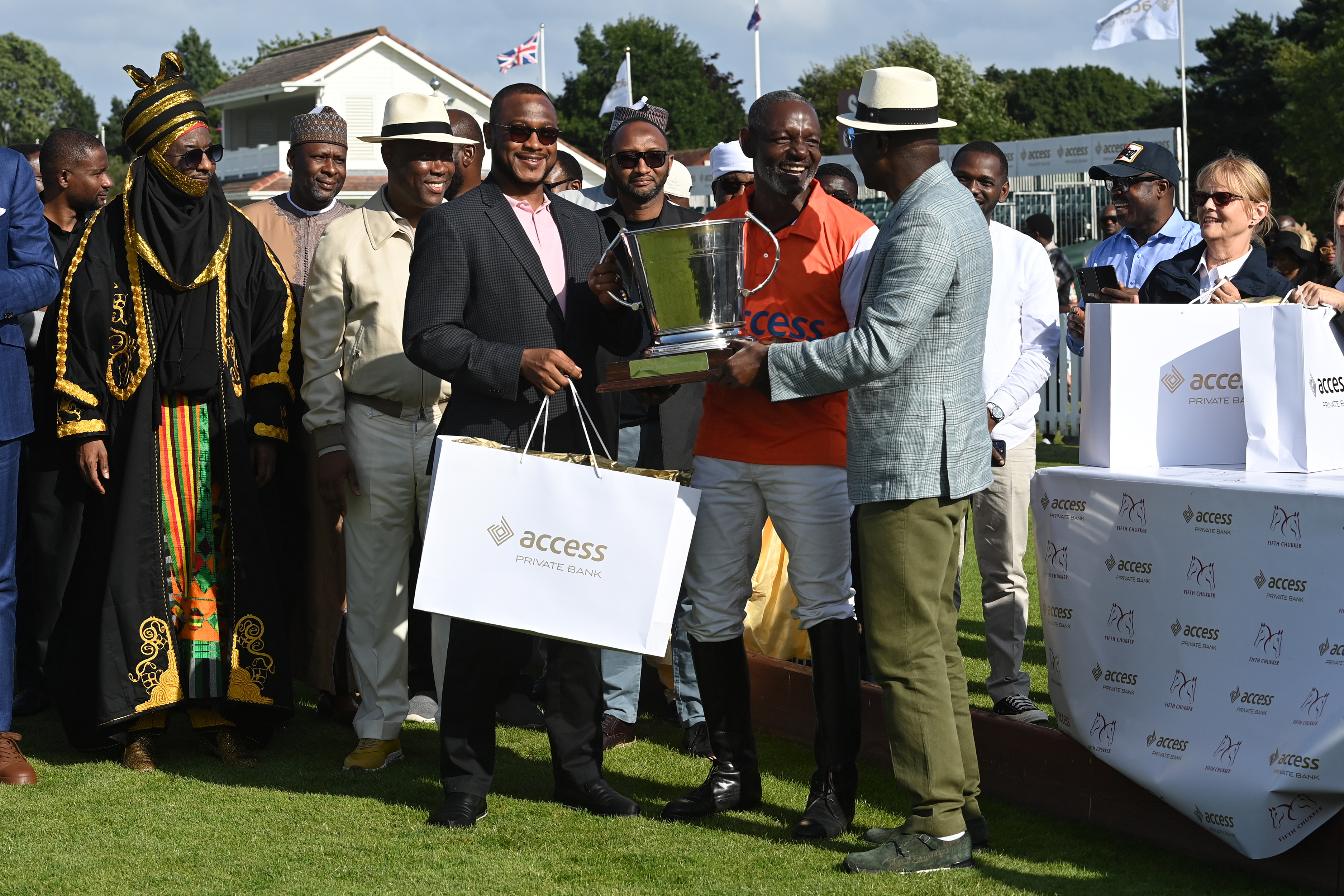 UNICEF win big thanks to Access Bank Day
18th July 2023
---
A vibrant Access Bank Polo Day here at Guards Polo Club once again combined celebrating another year of outstanding international business growth for The Access Bank UK Ltd with fabulous fundraising for UNICEF schools building programme in Nigeria, part of The Access Bank/Fifth Chukker impressive fundraising initiatives across Africa. During the event more than 700 guests pledged to build another 200 classroom blocks.
On the field of play Malcomines Polo won the Khalifa Cup, beating Delaney Polo 7-4 across four chukkas. However Delaney Polo's Damian Duncan, who had a standout game in the number one position, was rewarded with the Access Bank Most Valuable Player prize.
The second match of the day, for the Access Bank Charity Cup, saw a win for Access Bank. They beat Fifth Chukker 4-3 in a fast-paced game that featured some of the sport's top players including Juan Martin Nero, Polito Pieres, Alfredo Bigatti and Guillermo Terrera. For Polito Pieres this was his second appearance of the day, as this was also a member of the winning Malcomines team. Access Bank's Sayyu Dantata received the Most Valuable Player prize from the 14th Emir of Kano, Khalifa Muhammadu Sanusi. He then stepped up to receive the Access Bank Best Playing Pony prize for Bayita, whom he had played in the fourth chukka.
For The Access Bank UK Ltd Chief Executive Officer/ Managing Director, Jamie Simmonds, the highlight of a strong financial operating performance has been securing the approval of French regulators for the Bank to open a regulated branch in Paris. "This is a significant development representing the Bank's latest success in expanding our parent group's international footprint beyond Africa, the City of London and its branch in Dubai."
Herbert Wigwe, Group Managing Director of Access Holdings PLC and Chairman of The Access Bank UK Ltd, says "The successes of The Access Bank UK Ltd have been a major milestone in the development of the banking group into the biggest Nigerian Bank in respect of assets and the largest in Africa by customer base and has charted our course for the future and vision to be the world's most respected African bank. Together our continuing support for the Fifth Chukker - UNICEF initiative reflects our view of our role as a change agent in Nigeria and Africa that can help institute socio-economic development through responsible business practice, social initiatives and environmental consideration." "We continue to look for ways to enable more resources to be directed at supporting the children. We are part of the community and as such should support its wellbeing."
Since the UNICEF/Access Bank initiative was started it has rebuilt schools in Kaduna and has kept more than 8000 students in continuous education. At the same time new school blocks and a computer literacy building all in a more secure and friendly school environment have been developed. The communities surrounding the schools are supported with boreholes for water and sewing and grinding machines to secure employment and stimulate economic and social development.
Malcomines Polo: Murtala Laushi (0); Shamsuddeen Dahiru Mangal (1); Alejo Aramburu (6); Polito Pieres (9). Delaney Polo: Damian Duncan (0); Adebayo Karim (2); Jose Araya (5); Agustin Merlos (7).
Access Bank: Sayyu Dantata (10; Polito Pieres (9); Juan Martin Nero (9); Adamu Mahmoud Atta (2). Fifth Chukker: Gidado Ladan (0); Diego White (5); Alfredo Bigatti (8); Guillermo Terrera (7).
---