Guards Polo
Club News
Back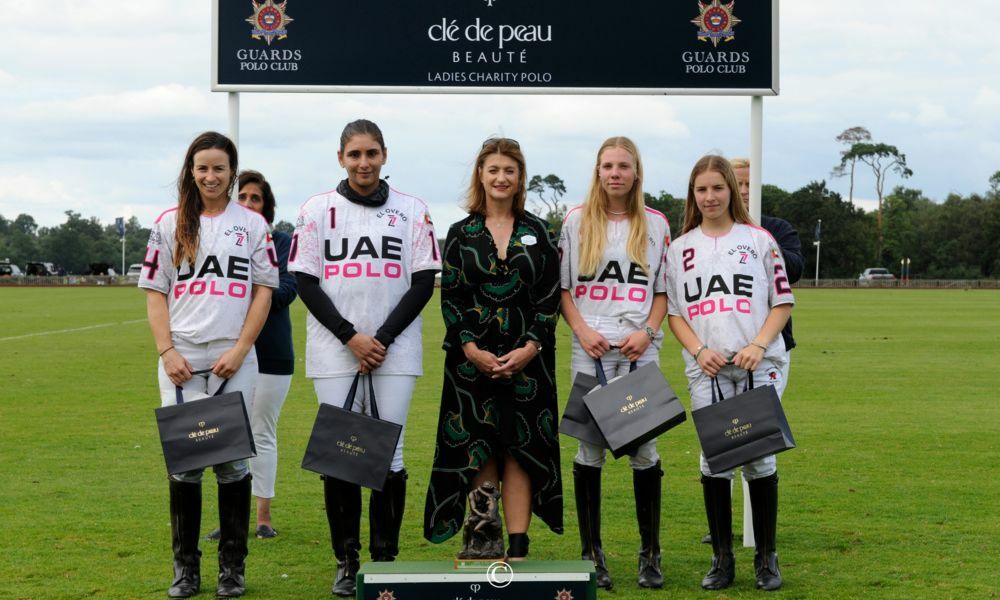 UAE Team find Beauty in Ladies Polo
29th August 2021
---
HH Sheikha Maitha's UAE Polo Team cemented their position as the leading ladies' polo squad by winning the Clé de Peau Beauté Guards Ladies Charity Polo Final. The Sheikha's team, featuring the 10-goaler Hazel Jackson, defeated Alicia Woods' La Ruleta (rec ½ goal on handicap) 8-3½.
These two teams had met in the 2019 final of this tournament, with La Ruleta taking the honours then. UAE Polo Team were taking no chances this time around and dominated the match from the first whistle. Hazel started off the goal scoring, with team-mates and sisters, Cata and Juana Lavinia following suit. This ensured UAE Polo Team were 3-½ up after the first chukka. A fabulous field goal from Cata, who was later named the Clé de Peau Beauté Most Valuable Player, put UAE further ahead in the second and when she was hooked out of a play in the same chukka, Hazel was perfectly placed to pick up the ball and fire through the goal. Nina Clarkin, also playing off 10-goals, successfully converted a 40-yard penalty to get La Ruleta off the mark before the half-time bell but Alicia's team were now playing catch-up.
The Sheikha successfully converted a 30-yard penalty in the third, while team-mate Cata closed this chukka with another goal. Despite trailing for the entire match La Ruleta never gave up fighting. Good teamwork from Nina and Danielle Lussi produced a good goal in the third and some smart play from Nina and Alicia in the fourth secured another goal for La Ruleta. However with Hazel finding the flags once more in this final chukka, UAE Polo Team's victory was never in doubt.
Helen Wood, UK General Manager of NARS, Laura Mercier, SHISEIDO & Clé de Peau Beauté, presented the prizes, including the Lord Patrick Beresford Trophy to HH Sheikha Maitha. Helen also awarded the Best Playing Pony Prize to Matuza Perry. This seven-year-old was played by Cata in the first and third chukkas and is owned by her father, the professional player Fabio Lavinia.
This is the first year of Clé de Peau Beauté's generous sponsorship of the Guards Ladies Charity Polo Tournament and so all the players headed home with some exquisite gifts, including the brand's iconic anti-ageing night cream La Crème and complimentary facial treatments in the Clé de Peau Beauté Radiant Suite, Harrods, Knightsbridge. Non-players also benefited from Clé de Peau Beauté's generosity as everyone dining in the Clubhouse received the newest addition to the brand's targeted treatment range in the form of the 24-kt gold infused Precious Gold Vitality Mask. The luxury skincare and makeup brand chose UNICEF UK as the beneficiary on finals day, raising several thousand pounds through various fundraising opportunities including a live auction in the Clubhouse.
Lydia Raw and Victoria Roe from UNICEF UK presented the prizes for the second match, for the Clé de Peau Beauté Charity Plate. This match features several Guards Polo Club lady patrons and players plus two professional lady players – Nina Clarkin for Clé de Peau Beauté and Lia Salvo for Guards Polo Club. In a much tighter game, also on The Queen's Ground, Guards Polo Club (rec ½ goal) won the match 6½– 3. Elodie Avarguez was named the Most Valuable Player while Clé de Peau Beauté's Mindi Byrne received the Best Playing Pony Prizes, including a stunning floral headcollar, for Niagara.
Seven teams had entered this year's 18-goal ladies' tournament and so the first ladies match of the day was for the competitive sub final. This was a win for Annita van der Hoeven's Nipas-ESP. They best Team Tonic/Mount Loftus 5-3 in the closest game of the day.
UAE Polo Team: Sheikha Maitha Al Maktoum (3); Juana Lavinia (1); Catalina Lavinia (5); Hazel Jackson (10). La Ruleta: Alicia Woods (2); Danielle Lussi (2); Robyn Evans (4); Nina Clarkin (10).
Guards Polo Club: Phoebe Leake (1); Jayne Rumsey (2); Elodie Avarguez (20; Lia Salvo (9). Clé de Peau Beauté: Éclair Chen (1); Mindi Byrne (2); Olympia Paus (2); Nina Clarkin (10).
Nipas-ESP: Annita van der Hoeven (1); Bryony Taylor (5); Izzy McGregor (6); Rosie Ross (6). Team Tonic/Mount Loftus: Catherine Isted (3); Georgina Brittain (2); Heloise Wilson-Smith (6); Sarah Wiseman (7).
---