Guards Polo
Club News
Back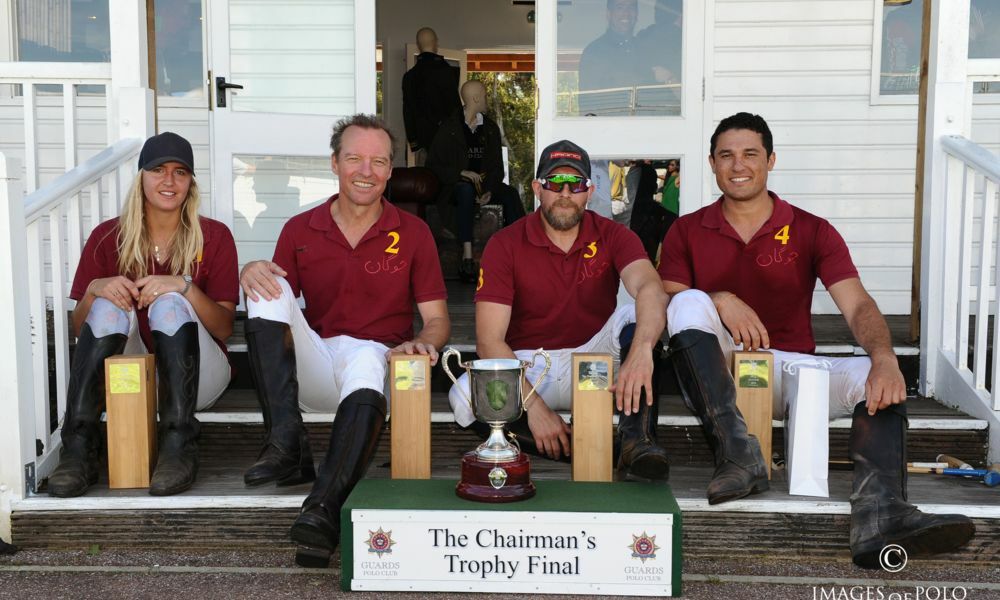 Tchogan stops Chairman making history
24th September 2019
---
Heiko Voelker, patron of Tchogan, added to his Most Improved Player Award from the Club's Awards Evening the night before, by winning the Chairman's Cup. In securing this trophy, the penultimate cup of the 2019 season, Tchogan denied our Chairman the opportunity to make history. Brian Stein and his Ockholt team, in partnership with Tunde Karim's Shoreline, reached the final of the competition, the first time in the tournament's history that a sitting Chairman has played in the competition.
Sadly for Brian, Tchogan were too good for Ockholt/Shoreline, defeating them 4-2. Tchogan played well as a team throughout the four chukkas, ensuring them victory. Ludo Ephson was rewarded with the Most Valuable Player prize and also collected the Images of Polo Best Playing Pony prize for Chrissie. This English Thoroughbred, which heralds from Alan Kent's Madams Farm, was played in the third chukka.
Seven teams had entered the competition and everyone got to play on finals day.The Directors Cup (the sub final) saw a win for Alejandro Penafiel's El Rosario. They defeated Oakmore, a combination of the Wooldridge family's Twelve Oaks and Ed Horswell's Sladmore, 6-4. Meanwhile, the remaining teams played a round-robin tournament to determine the remaining places with the Heard family's Home Farm finishing seventh, Hilali Noordeen's Casa La Vista Ibiza taking sixth spot and Vivek Rawal's Tashan Polo heading this mini-tournament and capturing fifth place.
Tchogan: Livi Alderman (0); Heiko Voekler (0); Julian Drake (0); Ludo Ephson (2). Ockholt/Shoreline: Antonio Manzorro (3); Tunde Karim (0); Adebayo Karim (0); Brian Stein (-1).
El Rosario: Alejandro Penafiel (0); Elodie Avarguez (0); Konstantin von Schweinitz (0); Marcelo Puga Prada (2). Oakmore: Tatjana Wooldridge (-1); Will Drewitt (0); Charlie Wooldridge (2); Edward Horswell (1).
Tashan Polo: Jeremy Pemberton (0); Vivek Rawal (0); Stefan Sund (0); Mark Emerson (2). Casa La Vista Ibiza: Simon Holland (0); Hilali Noordeen (0: Richard Blake Thomas (2); Ben Linstead (0). Home Farm: Clive Ried (0); Oliver Heard (0); Louis Heard (1); Patrick Ephson (1).
---