Guards Polo
Club News
Back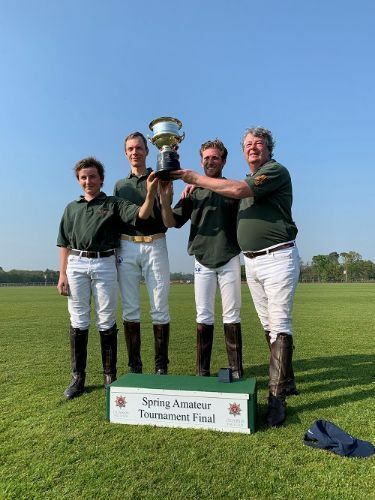 Porto Ronco start season with a win
24th April 2019
---
Porto Ronco won the first silverware of the 2019 season - the Spring Amateur Tournament. Patron Konstantin Graf von Schweinitz appropriately received the trophy that he first presented to Guards Polo Club in May 1993.
Three teams had entered this year's contest and played each other over the Easter Bank Holiday weekend. Porto Ronco took the trophy after beating Stefan Sund and Julian Drake's Previse /Cuervos Negros 7-5 and Ben Linstead's Bon Coeur (rec 1/2) 6-31/2.
This left Bon Coeur and Previse / Cuervos Negros to battle it out on Easter Monday for the sub final trophy. This was a very close game, with Bon Coeur grabbing the trophy thanks to their handicap advantage - 71/2 - 7.
Porto Ronco: Will Drewitt (-1); Konstantin Graf von Schweinitz (0); Charlie Wooldridge (2); Edward Horswell (1).
Bon Coeur: Livi Alderman (0); Jeremy Pemberton (0); Ben Linstead (0); Charles Cadogan (1).
Previse/Cuervos Negros: Oliver Heard (0); Julian Drake (0); Stefan Sund (0); Luke Wiles (2).
---