Guards Polo
Club News
Back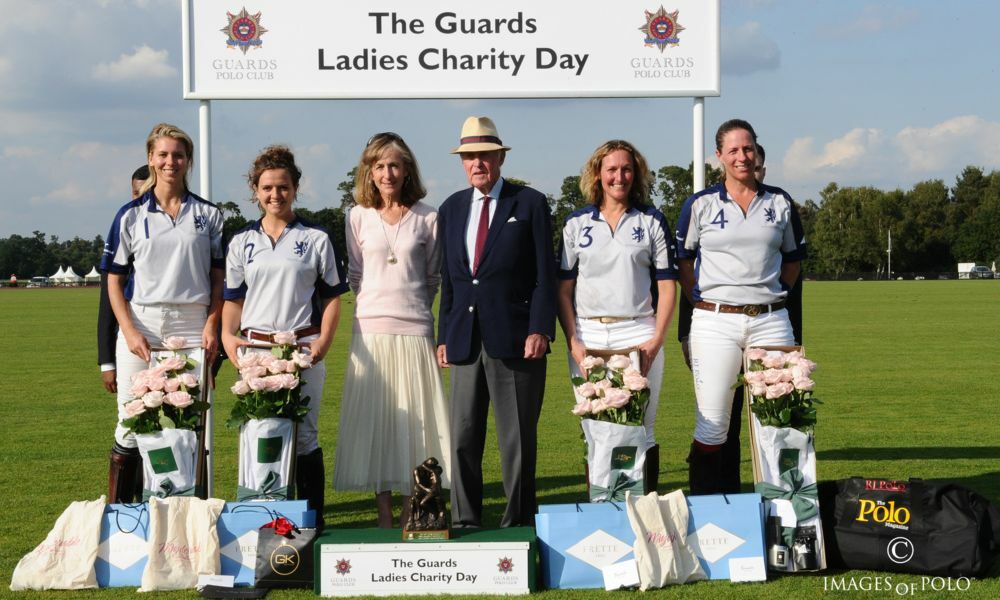 Monterosso ladies make history at Smith's Lawn
2nd September 2017
---
The Monterosso Polo Team added their name to polo history on Saturday, when winning Guards Polo Club's first ladies' tournament. Siri Evjemo-Nysveen and her team received the Lord Patrick Beresford Trophy after defeating Arabella Morris's Hascombe Stud squad 4-3 in a tight game on The Queen's Ground.

The addition of this tournament to the Club's fixture list is a result in the rise in popularity in the ladies' game. All the teams - 8 entered this open, 18-goal competition - were playing off their ladies' handicap, including Hascombe Stud's Nina Clarkin who is rated at 10 goals.

There was little air between the scores for much of the game, but Emma Boers picked up a ball from a melee with only seconds left of this final to ensure that victory went to the Monterosso team.

Lord Patrick Beresford, Guards Polo Club's first Polo Manager in 1955, presented his own trophy to Siri. He also awarded Emma Boers with The Polo Magazine's Most Valuable Player prize, while team-mate Emma Wood (nee Tomlinson) received the Polo Times Best Playing Pony prize for Javad. He was an impressive, 10-year-old, Ellerston-bred stallion.

These were not the only prizes handed out. Every player received an armful of gifts, including some beautiful, fresh flowers from OnlyRoses, towels from Frette, Fenwick Bracknell gift vouchers or goody bags, Mydorable chocolates, tasting bags from Tropics of Tea and Russie Blanche luxury toiletries.

Earlier in the day one of our patrons, Jasmine Calvert-Ansari, won the subsidiary final with her White Crane team. They defeated Silent Pool Gin (rec 11/2) 5-41/2 in another close match, this time played on the Duke's Ground.

Between these two matches Guards Polo Club hosted a lunch to raise funds for Breast Cancer Haven. This is the fifth year that the Club has supported this leading cancer support charity, working closely with the charity's own fundraising team to create a money-cannot-buy auction of lots. Some fierce bidding ensued between courses and the final total was still being totted up at the time of writing.

This great day of ladies' polo concluded with an exhibition game for the Guards Ladies' Charity Shield. The visiting UAE Hesketh Ladies' proved too strong for our Guards Ladies team, defeating them 31/2-1. Sarah Wiseman, who had played in the morning sub final for Silent Pool Gin, was pivotal for the UAE team. Another to impress was her team-mate Kristen Grube, who received the Lucy Choi London Most Valuable Player prize - a gorgeous pair of heels. The Guards team's Livi Alderman received the Best Playing Pony prize - a wonderfully floral headcollar and Jo Malone London candel for Nieve. Again though, all the players received lots of prizes, including gift bags from Rachel Elizabeth Wood Jewellery & Silverware, Guy Kremer Salon vouchers and bottles of British Polo Gin.
---