Guards Polo
Club News
Back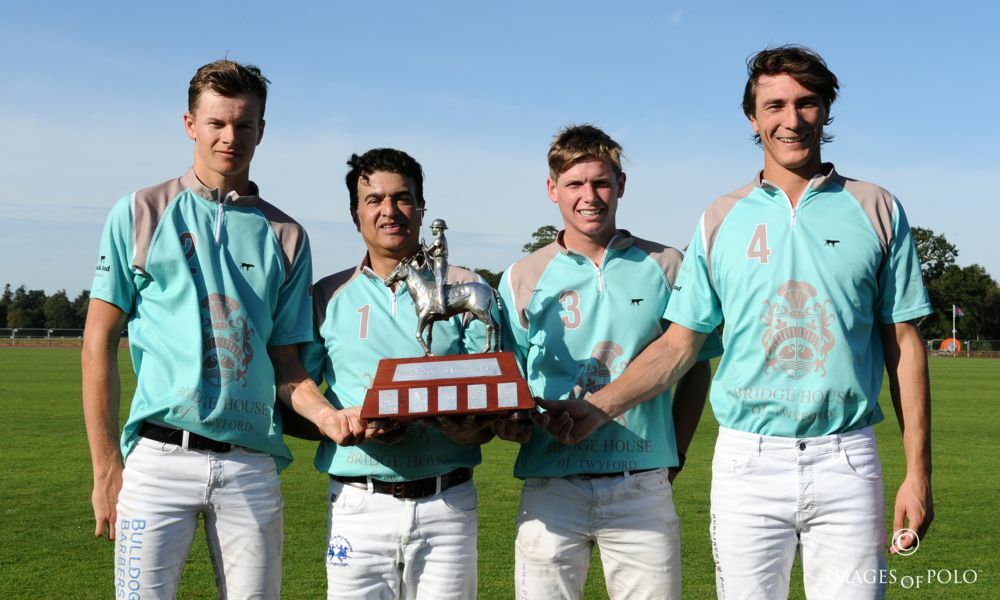 BHC deliver in Autumn heat
16th September 2019
---
On the Saturday night Will Harper was named the Talacrest Young Player of the Year at Guards Polo Club's annual end-of-season awards. Less than 24 hours later he collected The Polo Magazine's Most Valuable Player prize in the final of the Autumn Nations Trophy on the last day of the season. Will was a key member of Mo Sheikh's BHC team, winners of this competitive, fast-paced final. He was playing alongside Jack Richardson Ollie Cork and the patron and BHC produced a blistering performance in equally blistering heat to defeat the defending champions, Simon Arber's Four Quarters Orange, 7-5.
At the end of the third chukka BHC had a commanding, 6-2 lead and looked a shoo-in to add Mo's name to this trophy for the third time. BHC had previously won in 2015 and 2016. Four Quarters Orange's Tom Brodie had other ideas though, firing through an incredible, almost impossible goal, that commentator Ebe Sievwright called "the best goal of the game".
Tom found the flags from the next throw-in and suddenly Four Quarters Orange were back in the game. BHC responded via Jack Richardson, who had been strong throughout the match, firing a big hit up to Will to increase their lead to 7-4. With three goals in as many minutes, the many spectators were loving this competitive spectacle so late in the season. Four Quarters converted a penalty in the final minutes of the match but ran out of time before they could score again.
The prizes for BHC continued aplenty in the presentations with Ollie Cork receiving the Polo Times Best Playing Pony prize for Storm, a 12-year whom he had played in the third chukka.
Nine teams had entered this year's tournament and the sub final was equally competitive. Vere Harmsworth's Ferne Park came out best in this tussle. They defeated Jasmine Calvert-Ansari's White Crane 6-4 in the very final game of the 2019 season at Guards Polo Club.
BHC: Mo Sheikh (0); William Harper (2); Ollie Cork (3); Jack Richardson (7). Four Quarters Orange: Simon Arber (0); James Fewster (3); Tom Brodie (4); Tom Morlely (5).
Ferne Park: Vere Harmsworth (0); Hugo Taylor (2); Facundo Guevara (3); Joaquin Pittaluga (7). White Crane: Jasmine Calvert-Ansari( 0); Marcus Cork (1); Andrew Blake Thomas (4); James Harper (7).
---