Guards Polo
Club News
Back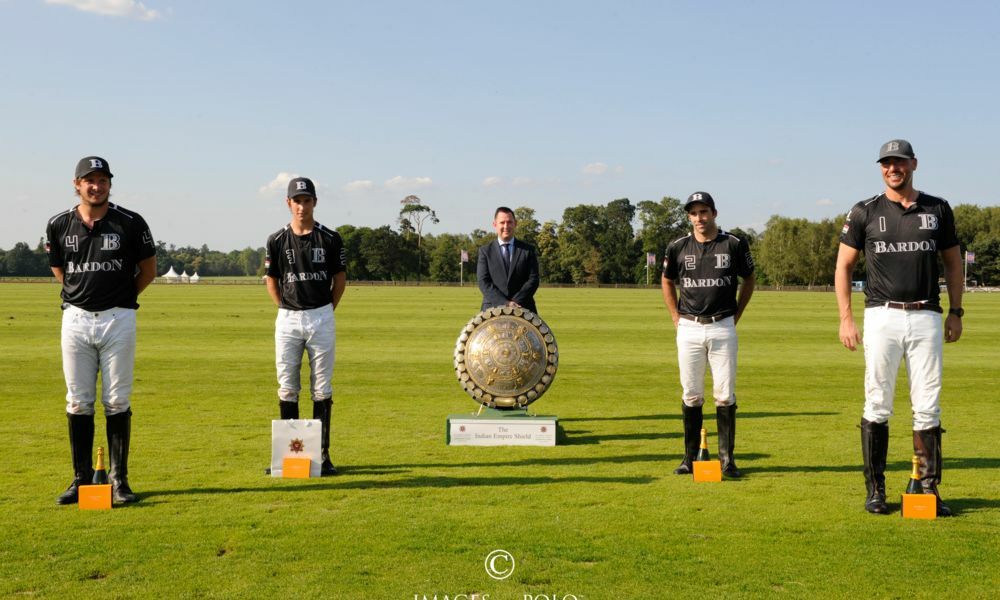 Bardon turn tables on Emlor to win Indian Empire Shield
19th July 2021
---
Bardon delivered some impressive team play in the early stages of the Indian Empire Shield Final to ensure they would win this 18-goal trophy at Guards Polo Club on Sunday. Andras Tombor's team defeated old adversary Emlor (rec ½ goal on handicap) 6- 5½ in five, fast-paced chukkas. Just seven days earlier these two teams' fortunes had been reversed in the 15-goal Out-Sourcing Royal Inc. Royal Windsor Cup Final, with Emlor winning that match by half a goal. So Bardon were determined not to let that happen again and led throughout this match.
James McCarthy's Emlor struggled to find their form in the first three chukkas and were trailing 6-2½ at half-time. In contrast, Bardon were focused from the first throw-in, even though this match had been delayed to allow Adolfo Cambiaso Junior and Isidro Strada time to travel to the Club after a Scone Polo Gold Cup quarter-final at Cowdray Park earlier in the day. Ignacio Negri was particularly impressive for Bardon and was rewarded later with the Polo Magazine's Most Valuable Player Award.
Emlor got themselves much back into this game in the fourth chukka, with Richard Tyrone successfully converting two penalties to nothing in reply from Bardon. So this was now anyone's game going into the fifth chukka. Emlor's Pedro Harrison did a great job in defence – Bardon did not score at all in the final two chukkas – and with Tyrone successfully converting a 30-yard penalty with four minutes left to play it was now game on. Both teams responded with some fast, up-and-down play which was a delight to watch but neither side could convert these runs into goals. So, on the final whistle, it was Andras Tombor and Bardon who lifted the mighty Indian Empire Shield. Cambiaso Junior received the Polo Times Best Playing Pony prize for Open Calloway, who is owned by Bardon's Polo Manager Matias Machado, whom Cambiaso had played in the second chukka.
Eleven teams had entered this 18-goal contest, delivering 21 games over the previous 20 days. So it was no surprise that the sub-final was equally competitive. Honours in this game, played at Coworth Park earlier in the day, when to Noor Khadra's Green Gates. This team were 5-3 down at half-time to Guy Schwarzenbach's Black Bears at half-time but rallied strongly in the second half. Green Gates fired through four goals in the fifth chukka, most coming off the stick of Diego Cavanagh, to win the equally impressive sub final trophy 8-7.
Bardon: Andras Tombor (0); Ignacio Negri (6); Poroto Cambiaso (7); Isidro Strada (6). Emlor: James McCarthy (2); Richard Tyrone (5); Juan Ambroggio (6); Pedro Harrison (5).
Green Gates: Noor Khadra (0); Gonzalo Ferrari (5); Tomas Garbarini (5); Diego Cavanagh (8). Black Bears: Guy Schwarzenbach (2); James Fewster (4); Ollie Cudmore (6); Patrick O'Dwyer (6).
---