Guards Polo
Club News
Back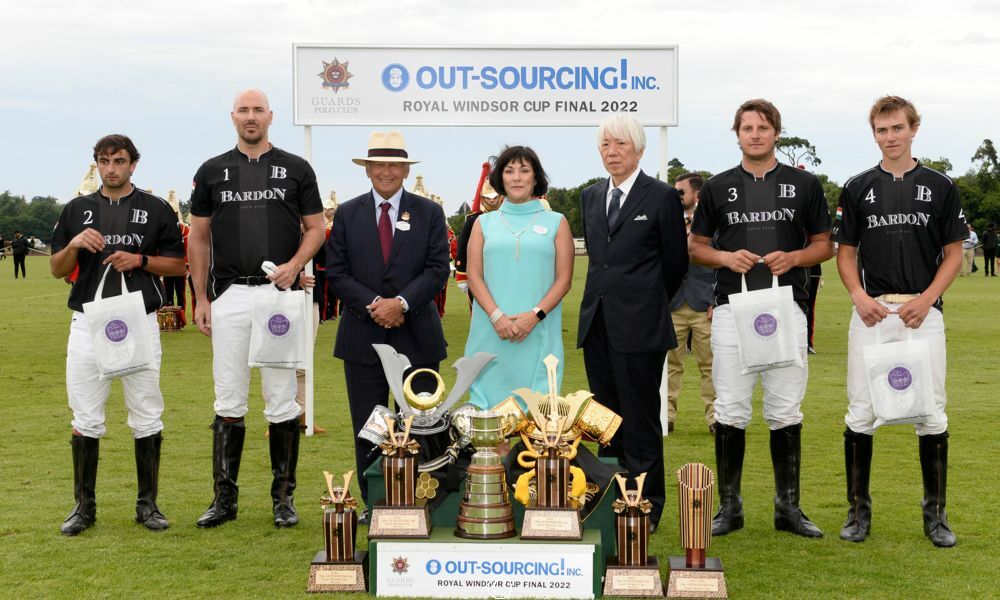 Bardon Finds Royal Windsor Gold in Extra Time
20th June 2022
---
Bardon have added their name to the Out-Sourcing Inc. Royal Windsor Cup thanks to a golden goal from Isidro Strada. Andras Tombor's team won the UK's leading 15-goal contest in extra time on Sunday on The Queen's Ground, narrowly beating Andrew Dechet's Ainsley Saddlery 11-10.
Tombor's squad was eager to avenge their half-goal defeat in last year's final against Emlor but had to work hard for this victory. Ainsley Saddlery would not give an inch and even when Bardon managed a two-goal lead in the third and again in the fifth, Dechet's team fought back and closed the gap.
Ainsley Saddlery's resilience was more remarkable as they had been forced to make a change to their team after Dechet himself was injured in the quarter-finals. The young Jack Whitman took his place, playing in his first final at Guards Polo Club. Meanwhile the impressive 12-year-old Rufino Laulhe took on number one duties from his brother Beltran in the Ainsley squad and is definitely a player to keep an eye on in the future.
In addition to Strada, who was later named the Out-Sourcing Inc. Most Valuable Player, the standout competitor for Bardon was Teodoro Lacua. This Argentine player, also playing in his first final at the Club, was impressive, including winning several horse races against the always strong Manuel Plaza of Ainsley Saddlery.
In the fifth, and supposedly final chukka, Plaza and Guillermo Terrera stepped up a gear, pushing this game level, 10-10. A penalty for Ainsley Saddlery at the very end of this match to win the game, uncharacteristically went wide for Plaza, highlighting the pressure and tension on the field and pushing this game into extra time.
A great run by Lacau went wide early into this extra time and the many guests of Out-Sourcing Inc., sponsors of this tournament for the past five years, held their breath. More tense play occurred before a Strada backhand delivered the win for Bardon. A hugely delighted Andras Tombor received the prestigious trophy from David Matsumoto, Executive Advisor to Out-Sourcing Inc and Anne Heraty, Founder and Chairman of Cpl Resources Group and a Director of Out-Sourcing Inc.
The Bardon team manager Matias Machado's impressive mare Open Calloway, played by Lacau in the first and sixth chukkas of this final was named the Out-Sourcing Inc Best Playing Pony. This eight-year-old mare adds this tournament to her best pony prizes in the Indian Empire and Duke of Cornwall finals.
Twenty-six teams had entered this year's 15-goal contest and so the sub final was equally competitive. Ferne Park/Cowdray Vikings won this tussle 8-6, beating Romilla Arber's Four Quarters Black on The Duke's Ground. Vere Harmsworth was joined in the presentation by the injured George Pearson – his place in the team had been taken by the South African Benjamin Crowe – to receive the Mountbatten Trophy from Mr Kazuhiko Suzuki, Senior Managing Director of Out-sourcing! Inc and Mr Andrew Bentley.
In addition to two thrilling polo finals, Guards Polo Club hosted a lunchtime jousting tournament for the first time. The day concluded with a parade of champions from the British Driving Society's Summer Show, which had been played out on another ground at the Club.
Bardon: Andras Tombor (0); Kian Hall (3); Isidro Strada (6); Teodoro Lacau (6). Ainsley Saddlery: Rufino Laulhe (1); Jack Whitman (1); Manuel Plaza (6); Guillermo Terrera (7).
Ferne Park/Cowdray Vikings: Vere Harmsworth (1); Benjamin Crowe (2); Tom Brodie (5); Joaquin Pittaluga (7). Four Quarters Black: Romilla Arber (0); Felix Esain (5); Santos Merlos (4); Benjamin Urquiza (6).
---